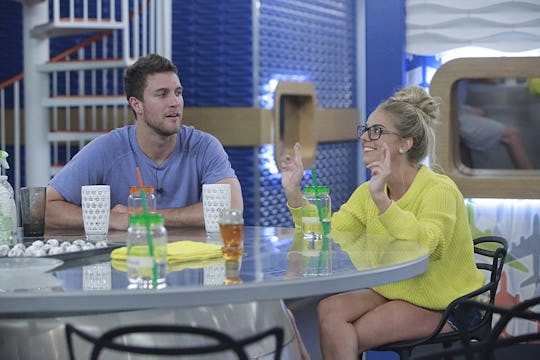 Bill Inoshita/CBS
Corey & Nicole Showmance Gifs From 'Big Brother 18' Prove There's Something There
It's so easy to get excited about Paulie and Zakiyah or James and Natalie, but the Big Brother live feeds prove to us that there is another showmance we haven't been let in on too much in the edited show. This would be Corey and Nicole, who have been building some kind of showmance since a week or so into Big Brother 18. But the gifs of Corey and Nicole from Big Brother are where the real proof is that it is a showmance we should be following and investing ourselves in. You can't allow yourself to fall too hard for just one Big Brother coupling anyway, when one half of them could be evicted the next week, so it's best to support showmances all around.
The attraction began when they started cuddling like a week into Big Brother 18 and little by little, whatever is going on between Corey and Nicole on Big Brother blossomed into something of a showmance that fans are already loving. But it's still hard to imagine Nicole with anyone else, since she claimed that showmances were completely off the table for her this season and fans were kind of obsessed with her relationship with Hayden on Big Brother 16. Regardless of however it ended, their showmance did what very few are able to do — it remained intact when the show part was out of it, up until a few months ago. We can speculate all we want about Nicole returning to Big Brother having something to do with their demise as a couple, but according to her, it was a change in Hayden himself, so we'll leave that alone.
It's hard to ignore Nicole and Corey on the live feeds when they're right there, canoodling and being all cutesy. And they've been doing it so much that Big Brother fans have been at work, putting together the best Corey and Nicole gifs to make us get super into this pairing.
Like When Nicole And Corey Basically Became Best Friends, Too
Yep, they have a handshake.
When Corey Liked Nicole's Romper
Kudos for even knowing what a romper is, Corey.
When Their Cuddling Game Was On Point
So many snuggles.
And They Couldn't Stop Touching Each Other, Like Here
Proof is in the pudding.
Or Here
I can't make this stuff up!
While They Found Time To Strategize & Talk About Other Couples
The showmance currently brewing between Corey and Nicole on Big Brother may not yet be up to speed with whatever Zakiyah and Paulie have going on, but it's past the point of where Natalie and James are in showmance limbo, so there's that. And the gifs of Nicole and Corey from Big Brother 18 are solid proof that the houseguests are obviously more than just that when it's all said and done. Maybe it's a showmance, maybe it's a romance, maybe it's a friendship... time will tell.