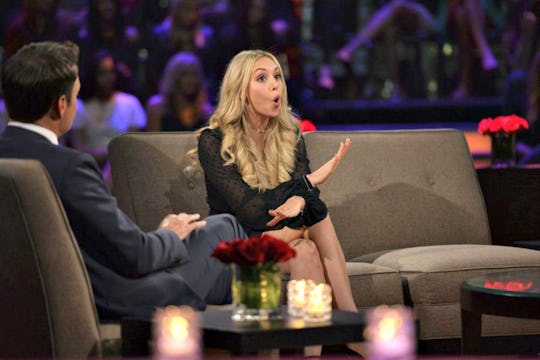 Michael Yada/ABC
Corinne's Lawyer Will Continue 'Bachelor In Paradise' Investigation
Warner Bros. announced on Tuesday that its internal investigation into alleged misconduct on the set of ABC's Bachelor in Paradise had concluded and that the show would resume filming in Mexico. A short while later, a lawyer for cast member Corinne Olympios said they'd continue an investigation into the alleged Bachelor in Paradise incident on their own, without the studio. It seems that at least one of the two cast members involved in the alleged "misconduct" is not giving up just yet.
Olympios' lawyer, Marty Singer, released a statement on his client's behalf late Tuesday, writing:
It needs to be made crystal clear that production of Bachelor in Paradise was shut down because of multiple complaints received from BIP producers and crew members on the set. It was not shut down due to any complaint filed by Corinne against anyone. It comes as no surprise that Warner Bros., as a result of its own internal investigation, would state that no wrong doing had occurred. Our own investigation will continue based on multiple new witnesses coming forward revealing what they saw and heard.
Romper's request for comment from Warner Bros. concerning Olympios' statement was not immediately returned. Earlier on Tuesday, Warner Bros. released a statement saying that it had found no instance of "misconduct" and that the show would resume filming this season.
Warner Bros. was reviewing tapes from an incident that allegedly took place on June 4 after two producers claimed that "misconduct" had occurred between cast members DeMario Jackson and Olympios. Although the tapes have not been released — and the studio allegedly doesn't plan on releasing them — anonymous sources alleged that a sexual encounter occurred on set in which Olympios was reportedly too drunk to give consent.
After word got out that production was halted because of an incident of alleged misconduct, both cast members released statements through their legal teams. Jackson alleged that the encounter was consensual. Olympios released a statement saying that she was "a victim" and that what occurred that night was a "woman's nightmare."
It's troubling that the studio conducted an internal investigation and found that there was no misconduct on behalf of any cast or crew members and has decided to move forward producing a popular primetime show, despite lingering concerns from one of the parties involved. Some have argued that internal investigators for Warner Bros. might have some conflict of interest when it comes to deciding whether or not what happened was legal or not, though that's up for debate.
Even if Corinne was "black out drunk," as some cast members have alleged, that means that anything sexual that might gone down was more than likely nonconsensual. If Olympios believes she is a victim, she has every right to continue an investigation and have law enforcement decide whether what reportedly happened was illegal or not.