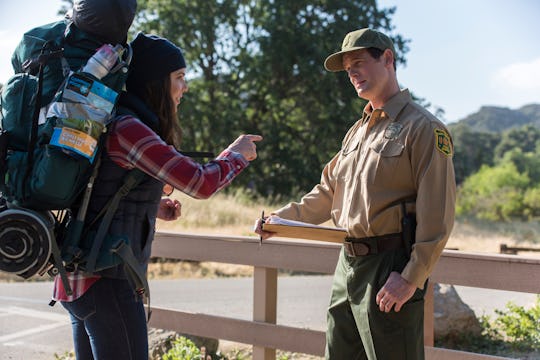 Netflix/Prashant Gupta
Could A 'Parenthood' Revival Happen? 'Gilmore Girls' Brought Part Of The Cast Together
Fans only just got Lorelai Gilmore back after almost 10 years of living without the fast-talking TV mom of everyone's dreams, but that doesn't mean it's a bad time to start thinking about the possibility of a Parenthood revival as well. When Netflix first revived Gilmore Girls for the four-part series of 90-minute episodes, no one suspected the amount of Parenthood alums that would go on to make cameos in it. So could a Parenthood revival happen? Gilmore Girls brought back some of the cast during its revival, reuniting Lauren Graham with her other TV daughter, Mae Whitman, as well as her former Parenthood boyfriend, Jason Ritter. Peter Krause also guest-starred on the Gilmore Girls revival, reminding fans how much on-screen chemistry he has with his Parenthood sister and real-life girlfriend, Graham.
So, is a Parenthood revival possible in the near future? Getting a mini reunion of some of the original Parenthood cast on the Gilmore Girls reboot was almost enough to quench the thirst of Parenthood fans who are still holding out hope for another season. But in reality, it only made fans miss the Braverman family even more and start to ask if there will be a Parenthood revival on the horizon. Because to know the show is to be obsessed with it and need its return after being off the air for almost two years.
In August, TVLine spoke to Parenthood creator Jason Katims about the possibility of Parenthood returning to TV, given the show's continued following long after the series finale aired in 2015. Katims, who is currently working on his newest NBC drama, Pure Genius, didn't outright deny the possibility, but he didn't make any promises either. Instead, he said that "There's nothing happening right now, but when the time is right I would love to revisit it." So, you're saying there's a chance? Well played, Katims, well played.
As if Parenthood fans weren't already clamoring for a revival of the sometimes underrated NBC series, the Gilmore Girls revival kind of solidified the need for the Bravermans to return to TV, regardless of what capacity that may be in. Katims also told TVLine that although bringing back Parenthood would have to be at a time when he has a strong story to tell, he did admit that he spoke with someone on the crew of the Gilmore Girls revival to find out how it worked bringing the series back to life that way. According to Katims, somewhere down the line with Parenthood, "I was thinking that might happen."
But Katims isn't the only one involved in Parenthood who would entertain the idea of the series coming back in full force. Graham, who played Sarah Braverman, one of the family's main matriarchs, hasn't been shy about tweeting about being down for a Parenthood revival similar to that of Gilmore Girls, the other show that fans know her from.
The huge success of the Gilmore Girls revival on Netflix is proof that bringing back other shows, namely Parenthood, could really work as long as they already have a big enough fan base. But it could also be argued that the promise of bringing back a show in the same format as the Gilmore Girls revival would cause new fans to take an interest and want to catch up on the series in its entirety, partaking in a weekend of Netflix and literally chilling.
And since Parenthood was able to use the Gilmore revival as a platform for a makeshift reunion, it feels almost like fate for the NBC drama to make a come back as well.
Katims also told The Hollywood Reporter that it's all a matter of timing. Parenthood ended with Whitman's character, Amber, having a baby and then there was a carefully crafted flash forward for each member of the family. According to Katims, if a Parenthood revival happens, it will be when enough time has passed for there to be new stories to tell. "I'd like to wait long enough so we can look at the family at a truly new stage," he said. "It would be cool if that baby got old enough to start telling Amber stories, with Amber as the mom as opposed to being the teenage kid."
The Gilmore Girls revival not only featured cameos from Krause, Ritter, and Whitman, but also from Kelly Wolf, Max Burkholder's real-life mom, who played the woman trying to help Luke franchise his restaurant. Right now, nothing is in the works for an official Parenthood revival, but according to Katims, if the right story comes to him and the rest of the cast is down, it could very well happen. But let's hope it doesn't take almost 10 years for this one to come to fruition.