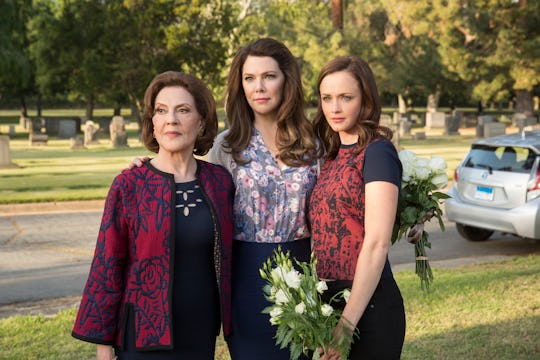 Robert Voets/Netflix
14 'Gilmore Girls' Revival Guest Stars & Cameos That Were Too Good To Be True
There were arguable no two characters that fans were waiting for more from the Gilmore Girls revival than the Gilmore women themselves: Lorelai and Rory. But that doesn't mean that all of the Gilmore Girls revival guest stars and cameos weren't extra special in the very best way possible. Long before the four-part series premiered on Netflix, most of the original cast was confirmed, and if there hadn't been too many guest star appearances, the continuation probably would have worked anyway. But there's no denying that the quick scenes and guest cameos (especially in regards to Parenthood) were a highlight of the series.
When you have a show like Gilmore Girls, which still had millions of devoted fans long after the series finale aired, you don't necessarily need any guest stars in the revival to make it successful, so the surprise pop-ins were both surprising and amazing, in that they added an extra ounce of validity to the long-anticipated sequel series. From Lauren Graham's former Parenthood co-stars to cooking channel celebrities, the Gilmore Girls revival was not short on cameos throughout any given episode. They were the aspects of the series you didn't even know you needed.
It took almost a decade for fans to get what creator Amy Sherman-Palladino had planned for the real Gilmore Girls send-off, and as most fans can attest to, it was well worth the wait — especially since it meant getting to see all kinds of guest stars jump on the Gilmore Girls bandwagon along the way. Such as...
1. Roy Choi
Although Lorelai had reservations about keeping the food truck chef in her kitchen at the Dragonfly Inn, she did entertain the idea — for a few minutes at least. It wasn't long before she kicked him out, since no one can really compare to the inn's former and original chef, Sookie. Plus, he took away her coffee machine, which I think we can all agree is an unforgivable crime.
2. Rachael Ray
Rachael Ray played yet another chef who doesn't succeed at the Dragonfly Inn. Although she did compliment Sookie's ability to have made the kitchen what it was, she too wasn't up to par with what Lorelai wanted in a chef for the Dragonfly. Although she was just supposed to be a visiting chef, attempting to open up a pop-up kitchen at the inn, her time there was short-lived.
3. Dan Bucatinsky
You might recognize Rory's interviewer from Conde Nast as James from Scandal. Although he is no longer on the ABC political drama, he is forever sorely missed by fans and it was like seeing the on-screen journalist come back to life for a little while as he played an editor on the Gilmore Girls revival.
4. Sutton Foster
Sutton Foster played a Broadway actress cast in the Stars Hollow musical, but that wasn't too far off from the character she played in Sherman-Palladino's other series, Bunheads. On the ballet dramedy, Foster played a former Vegan showgirl turned ballet instructor in a small town. So to see her back in a Sherman-Palladino show was a treat for Bunheads and Gilmore Girls fans alike.
6. Jason Mantzoukas
Jason Mantzoukas is best known for being hilarious in anything he does, from his role on Brooklyn Nine-Nine, to his parts in raunchy comedies like Dirty Grandpa. On the Gilmore Girls revival, Mantzoukas played Naomi Shropshire's attorney, who called Rory to dissolve her contract with Naomi for their book collaboration.
7. Mae Whitman
When Mae Whitman popped up on the streets of New York and interacted with Lorelai, she was reunited with her TV mom from Parenthood all over again and everything was right in the world. Lauren Graham reportedly told E! News that "anyone I could possibly get in the show, I wanted them there," so Whitman's cameo was well-placed.
8. Sebastian Bach
Weirdly enough, the lead singer of Skid Row was on a few seasons of Gilmore Girls back in the day, so his reprisal of Gil in Lane and Zack's band wasn't that much of a shock. Still, it's always nice to see original guest stars return for cameos, as opposed to other random actors portraying them. (I'm looking at you, Tristan/Chad Michael Murray!)
9. Alex Borstein
Alex Borstein was not only the original Sookie in the un-aired pilot of Gilmore Girls, but she also played the Stars Hollow harpist for the first few episodes of the series and then, Miss Celine, Emily Gilmore's stylist. She returned in the revival as the latter to dress Luke and Lorelai for their wedding.
10. Peter Krause
Peter Krause is another of Graham's former Parenthood co-stars, but he's also a lot more important than that. In real life, Krause and Graham have been dating for several years, so when he made a guest appearance on the Gilmore Girls revival to play the firm but fair park ranger, it was like a little wink to all of the fans who have been following their adorable real-life relationship.
11. Paul Anka
No, I'm not talking about Lorelai's dog, although Paul Anka the dog (played by Sparky) did return for the revival, which was amazing all on its own. But the real Paul Anka showed up in one of Lorelai's dreams yet again, reprising his role as her dream guide of sorts.
12. Jason Ritter
The final Parenthood cameo on the Gilmore Girls revival was Jason Ritter, who played one of Graham's boyfriends on Parenthood, but this time played the second park ranger she came in contact with as she tried to set out for her soul-searching hike.
13. Ray Wise
Ray Wise, known for his roles on Fresh off The Boat and The Young and the Restless, played Jack Smith, one of Richard's old college friends and Emily's possibly new love interest. At least, I like to think that eventually, she would find love again with someone like him.
14. Carole King
Carole King, the voice fans have come to expect at the beginning of each episode in the theme song, appeared in the "Summer" episode of the Gilmore Girls revival to reprise her role as the music store owner of Stars Hollow and to appear in a few of the meetings about the Stars Hollow musical. She even said something to Taylor along the lines of, "I've written some songs. I've never done anything with them, but you can have them for free to sing at the end if you like." (Something tells me she could make a career out of those songs.)
With all of the hype in the weeks and even months leading up to the Gilmore Girls revival on Netflix, you had to expect some guest stars and cameos that would be legit callbacks to the original series. But the revival went above and beyond that. The amount of actors they were able to snag to return and appear for the first time just shows how important this revival was and how relevant Gilmore Girls still is today.