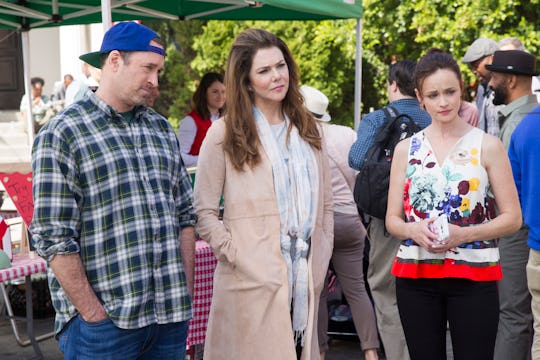 Saeed Adyani/Netflix
Every 'Parenthood' Cameo In The 'Gilmore Girls' Revival That Will Make You Miss The Show
Those final four words of the Gilmore Girls revival might still be dancing through your head, but there was a lot more to the four-part Netflix series than those words. Like every Parenthood cameo in the Gilmore Girls revival that would make any fan miss the NBC drama like crazy. Because for those of you who don't know, Lauren Graham went on to co-star in the NBC hit drama Parenthood a few years after Gilmore Girls ended and it was there that she made a whole new TV family to take with her everywhere. And in this case, I mean that kind of literally.
The Parenthood cameos in the Gilmore Girls revival were like little inside jokes for the super fans of Graham and two of the most important shows she's worked on. But what you might have missed was that there were more than just two or even three cameos in the revival. There were actually four — five, if you want to be technical, but I'll get to that later.
Parenthood fans have been clamoring for another season of the show ever since it ended with a shortened final season back in 2015 and although the series finale gave closure for each story arc, it has remained one of those shows that fans refuse to give up on. So seeing all of the Parenthood cameos in the Gilmore Girls revival not only made dual fans of the shows perk up a bit at the surprise guests, but also get a renewed hope in the series ever coming back.
With Graham's link to Parenthood, it wasn't super surprising to see all of the cameos in the revival, but it was still unexpected, as none of them had been widely known beforehand.
Peter Krause (A Park Ranger)
Krause was Graham's on-screen brother on Parenthood, but the two ended up hitting it off on-set and fell in love. They're still together today, which probably made snagging him for a cameo as a park ranger in the Gilmore Girls revival pretty easy.
Mae Whitman (The Girl In One Of The Lines)
Whitman played Graham's daughter on Parenthood, so when she popped up in one of the scenes where Rory was investigating lines in New York City, it was almost weird to see Graham with both of her TV daughters, in one place. But it was also kind of great, since you can't help but love both of the very different characters.
Kelly Wolf (Ida)
Wolf appeared in the "Spring" episode of the Gilmore Girls revival as Ida, the woman who was supposed to help Luke franchise his diner. Obviously those plans fell through, but not before some Parenthood fans recognized Max Braverman's real-life mom.
Jason Ritter (Another Park Ranger)
On Parenthood, Ritter was a big love interest of Graham's Sarah and right up until the end, I was a big supporter of the two getting back together. Unfortunately, for reasons I will never understand, that did not happen, but Ritter's surprise cameo in the Gilmore Girls revival as another park ranger opposite Graham was still amazing.
Bonus: Rose Abdoo (Gypsy & Berta)
I know, I know, Abdoo was in Gilmore Girls long before Parenthood was even a thing on TV. But she did have a multiple episode arc on Parenthood as Gwen, Kristina's (Monica Potter) friend who was battling cancer at the same time as she was. In Gilmore Girls, you know Abdoo as Gypsy, but in the Gilmore Girls revival, she also played Berta, Emily's new maid.
If the Gilmore Girls revival has taught fans anything, it's that you can totally come back almost 10 years later and be as relevant as ever, while sparking up interest from new fans once again. And it gives Parenthood fans some hope too that maybe, someday, they'll get the same treatment.