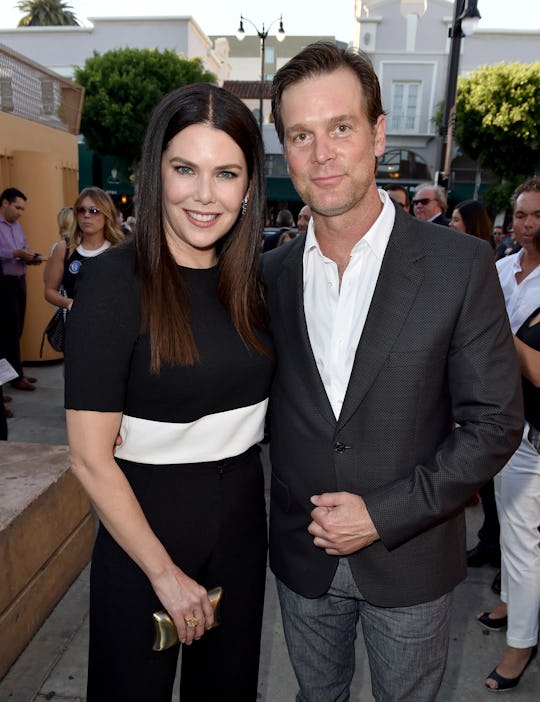 Kevin Winter/Getty Images Entertainment/Getty Images
Peter Krause's Cameo On 'Gilmore Girls' Means Much More Than A 'Parenthood' Reunion
(Warning: This post contains spoilers from Episode 1 of the Gilmore Girls revival.) It's no secret that after Gilmore Girls ended in 2007, the stars went on to do other TV shows and movies, but Lauren Graham's role in Parenthood stands out because of the show's impact on its viewers and the following it ended u p gaining before it ended after its sixth season. It also enabled Graham to meet her boyfriend, Peter Krause. Which is just one of the reasons why Peter Krause's cameo in the Gilmore Girls revival means much more than a Parenthood reunion ever could.
Now, that's not to say that I didn't fan girl during Mae Whitman's cameo on the streets of New York, or Jason Ritter's role as the first trail ranger to talk to Lorelai, but having Krause make an appearance was a much bigger deal. Graham and Krause met on the set of Parenthood, years after Kelly Bishop (Emily) had actually suggested that Graham date the actor she'd only casually known.
But by the time they became co-stars on Parenthood, Graham and Krause were ready to be a thing and even though they played brother and sister on-screen, they became a legitimate couple in real life. And since then, they have been adorably attached to each other.
So Krause's cameo on the Gilmore Girls revival was more important that Whitman's or Ritter's, as he played the second trail ranger that Lorelai tried to convince to let her hike. In some ways, seeing one of Graham's most important co-stars from Parenthood make a cameo on Gilmore Girls was much more important than any legit Parenthood reunion. It gave Graham a chance to interact with her boyfriend and former co-star in a new setting, giving fans who have followed Graham since the end of Gilmore Girls a little nudge nudge.
Fans of Gilmore Girls don't necessarily go hand in hand with those of Parenthood just because both shows feature Graham, but if you were a fan of hers, then chances are, you continued to follow her after the series wrapped in 2007 and if you watched her on Parenthood, then you probably fell in love with her all over again. Kind of like how Krause did. See what I did there?
Krause's cameo on the Gilmore Girls revival was quick and silly and done opposite Graham only, but it was the perfect way to bring the two of them back on-screen together and everything about it was kind of perfect.