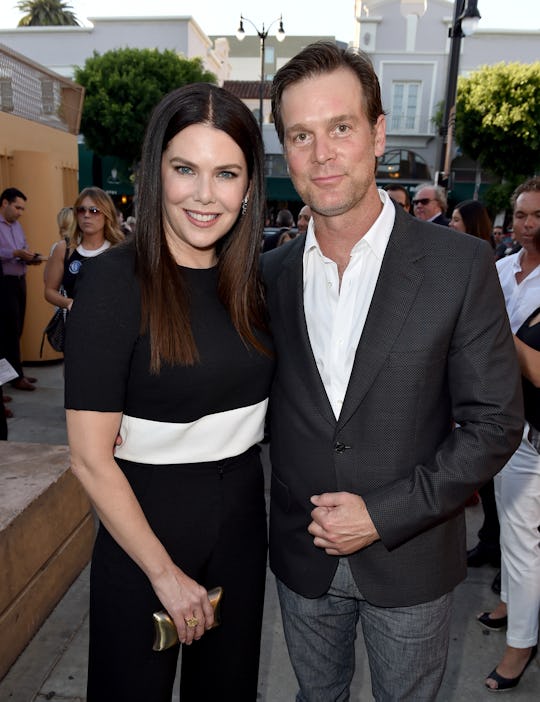 Kevin Winter/Getty Images Entertainment/Getty Images
Who Is Lauren Graham Dating? The 'Gilmore Girls' Actress Found Love With A Co-Star
It's hard to believe that it's been almost 10 years since Rory and Lorelai drank their final cup of coffee on Gilmore Girls and Stars Hollow gathered to celebrate another life milestone. But in the nine years since the series finale, a lot has changed with the cast, many of whom have gone on to star in other roles and make new relationships. That being said, you're totally allowed to ask: who is Lauren Graham dating now? Mostly because being nosy is your job as a fan of Gilmore Girls, but also because you know that in your heart of hearts you wished for the actress to somehow end up with Scott Patterson (Luke) in real life.
However, Graham didn't end up dating or marrying the real life actor who played her on again/off again beau. But she did find love with another co-star, Peter Krause, who played her brother in the NBC hit drama series, Parenthood. And if that kind of weirds you out, then you should probably take a look at any tweet where she mentions him or any interview where she talks about their relationship to see the very real love and chemistry that exists between the two of them. Sure, they played siblings on the small screen, but get ready to swoon over their cuteness as a couple with a mixture of awe and jealousy.
Graham and Krause have been dating for more than six years now and regardless of where you know them from, they give you serious relationship goals.
Once upon a time, though, when Graham was still Lorelai and Kelly Bishop was her TV mom, Bishop had toyed with the idea of setting Graham up with Krause. As Bishop told Glamour at the ATX Television Festival last year, she'd been like a real life mom to Graham when they were filming and had always wanted the best for her TV daughter. So one day, she brought up the idea of Graham dating Krause, who Bishop had met on the set of Six Feet Under, but at the time, Krause was still married.
Flash forward a few years, and somehow Graham and Krause found their way to each other after all. So maybe Mama Gilmore isn't totally responsible for the love connection, but she obviously had the foresight to see something there even before the couple did.
It was shortly after Gilmore Girls wrapped in 2007 that Graham eventually landed her role as Sarah Braverman, where she would formally meet Krause. So even though Gilmore fans were sad to see the show wrap, it ended up leading Graham to a truly epic romance, which really makes it all worth it. And right now, the duo is still going as strong as ever. So strong, in fact, that when Graham tweeted about voting and posted a picture of Krause, who is now on ABC's The Catch, with Hillary Clinton, she wrote the hashtag #Imwithher followed by #andalsowithhim. Do you love them yet?
Although the couple have been together for more than six years now, they have no immediate plans to tie the knot, but can you really blame them? They seem to have something legit going on, and why mess with a good thing?