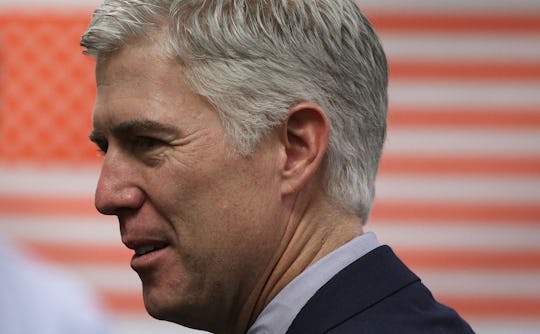 Alex Wong/Getty Images News/Getty Images
Neil Gorsuch's Views Could Affect Birth Control Access
Monday marks the dawn of what could be the most monumental event of one Colorado federal appeals court judge's life — and, possibly, could begin to map out the future of reproductive health care in the United States. As the Senate begins hearings to determine whether President Donald Trump's Supreme Court nominee, Neil Gorsuch, will claim a seat on the bench, defenders of reproductive justice are looking ahead to how the possible introduction of this new conservative voice to the Court could threaten women's access to health care. Specifically, could Gorsuch make it harder to get birth control if he's confirmed?
Trump's nomination of the Harvard Law-educated Gorsuch to fill the long-vacant seat on the country's highest court invigorated conservatives. And those who view contraceptives such as birth control pills as affronts to their own moral values surely felt particularly gratified, because Gorsuch's record on this issue is clear and consistent. The 49-year-old, whom Republican President George W. Bush appointed to the 10th U.S. Circuit Court of Appeals in 2006, most notably believes that employers' "religious liberty" trumps women's right to affordable contraceptive options.
The most illustrative example of this stance is the opinion Gorsuch joined in the controversial Hobby Lobby v. Sebelius case in 2013.
In this case, Gorsuch (as well as, ultimately, the Supreme Court itself) sided with the Green family, which owns the craft store chain Hobby Lobby and was opposed to the Affordable Care Act mandate that it must provide contraceptives in its health care plans for employees. Doing so, the family argued, would compromise their religious beliefs.
Gorusch agreed, as he wrote in a concurrence:
No one before us disputes that the mandate compels Hobby Lobby and Mardel to underwrite payments for drugs or devices that can have the effect of destroying a fertilized human egg. No one disputes that the Greens' religion teaches them that the use of such drugs or devices is gravely wrong.
In another opinion, this time dissenting, in the case of Little Sisters of the Poor v. Burwell, Gorsuch again stated his belief that religion is more consequential than women's health care. This time, he opined that it's not appropriate for anyone to question the religious beliefs of any entity seeking exceptions to the ACA's contraception mandate, Rewire reported.
But the judge's view takes a narrow approach to the broad, messy, and urgent issue that is access to affordable and effective birth control. Not only should women have the right to contraceptives under their company's health care plans simply to avoid getting pregnant, it can also be a matter of medical concern. In an opinion piece for The Chicago Tribune, lifestyle writer Rita Colorito detailed how she suffers from debilitating endometriosis, a "uniquely female disease" that not only frequently made her "double over in searing pain" but also caused her infertility.
After a surgery, she said she took birth control pills to keep the disease from recurring. Additionally, she noted, doing so could help women with family histories of ovarian and endometrial cancers to reduce their risks of developing these life-threatening illnesses, according to the Tribune. Should an employer really be able to decide whether a woman has access to this medical intervention based on religious beliefs?
If Gorsuch is confirmed by the Senate and joins the Supreme Court, he will be one of the conservative voices facing off against the four noted liberals on the eight-person court. There's always the possibility that Trump will have the opportunity to replace one of the older and more liberal justices on the bench with another conservative jurist over the course of his term or terms in office — an outcome that would give right-leaning judges a clear majority. At that point, access to birth control would be even more in danger than it is right now.