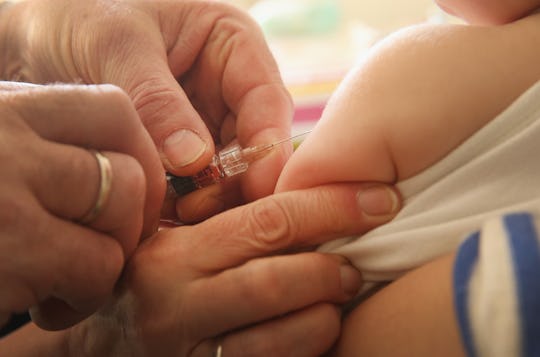 Sean Gallup/Getty Images News/Getty Images
Share This Op-Ed With Your Anti-Vaxxer Friends
Science is under siege. With Donald Trump insisting that the very real threat of climate change is a hoax and some House Republicans having introduced legislation to abolish the Environmental Protection Agency completely, the new presidential administration has shown itself to be resistant to evidence and unwilling to prioritize the health of our planet and its people. One of the most enduring and false trends making the rounds is the deleterious myth that vaccines cause autism — a myth that the president has endorsed. That's why one dad's op-ed on anti-vaxxers is an must-read for all parents who are considering whether to get their kids life-saving vaccines, or to give in to the myth that could cause the resurgence of nearly-forgotten illnesses.
Peter J. Hotez, a pediatrician and the director of the Texas Children's Hospital Center for Vaccine Development, penned the alarming piece. It ran in The New York Times' opinion pages Wednesday, the day after a massive coalition of 350 medical, advocacy, and professional organizations joined the American Academy of Pediatrics in imploring Trump to publicly acknowledge that vaccines are safe and crucial to preventing many lethal diseases. And that's urgent, because toxic misinformation has been prompting some parents to skip the vaccines, a move that could soon usher in an outbreak of measles, "one of the most contagious and most lethal of all human diseases," Hotez wrote.
Throughout his piece, Hotez takes on the pervasive yet totally debunked assertion that immunizing children against diseases like measles causes autism, and systematically dismantles it. More importantly, he makes the case that if society as a whole — including the federal government — does not realize the danger of disregarding the endless proof that vaccines are safe and act accordingly, we will have a real public health crisis with which to contend. In his own state of Texas, he writes, more than 45,000 school-age children have been excused from receiving the usual medley of vaccines under a "conscientious exemption," and a breathtaking one-third of private school students haven't gotten their shots.
That's awful not only for these children, but, potentially, for countless others with whom they will inevitably come into contact. And the projected imminent outcome (or, more accurately, just one of them) is truly horrifying. The situation Hotez presents is almost dystopian:
A single person infected with the virus can infect more than a dozen unvaccinated people, typically infants too young to have received their first measles shot. Such high levels of transmissibility mean that when the percentage of children in a community who have received the measles vaccine falls below 90 percent to 95 percent, we can start to see major outbreaks, as in the 1950s when four million Americans a year were infected and 450 died.
Perhaps just as unsettling is the political witch hunt that this could morph into, given Donald Trump's demonstrated tendency to parrot dangerous, unsubstantiated theories that, again, have no basis in fact. Long before he ever announced his presidential aspirations, the onetime reality television star had taken to Twitter to provide unattributed anecdotal evidence of this nonexistent phenomenon, such as an unidentified child having been "pumped with massive shot of many vaccines" and developing autism, and even a bold allegation that "the doctors [in that case had] lied." He kept up that argument during a 2015 Republican primary debate. Most recently, he met with Robert F. Kennedy Jr., a noted proponent of exemptions from state vaccination requirements, and reportedly discussed with him the possibility of heading a commission to investigate the (non-existent) issue.
For Hotez, that's worrisome because it could hinder the crucial work of agencies like the Centers for Disease Control and Prevention, if "such myths [are] used to justify new rounds of hearings or unwarranted investigations." Also, as the father of an adult daughter who actually has autism, he's worried that this type of questioning of irrefutable scientific evidence could pull attention from the real needs of people like her. Forcing the CDC to again and again defend its findings on vaccines is fruitless, while supporting mental health services and the research of the National Institutes of Health is as important as ever.
No wonder scientists are planning their own March For Science, which will take place in April. In so many facets of medical and environmental health, our lives depend on it.