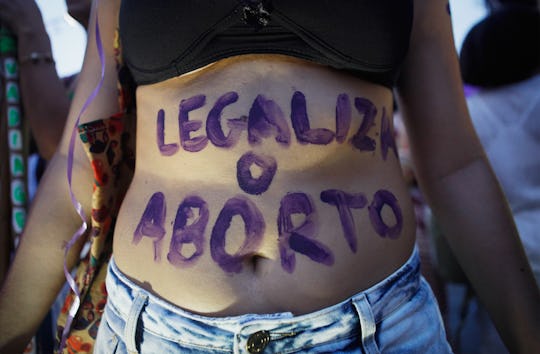 Mario Tama/Getty Images News/Getty Images
These Dangerous Anti-Abortion Laws Passed In 2 States Should Concern Everyone
It was a nail-bitter of an election night, with hundreds of landmark victories and heartbreaking losses across the country. But even the major wins in key states can't subdue the fact that dangerous anti-abortion laws passed in two states on Tuesday night. And those measures, experts say, would pave the way for full abortion bans in those states if the U.S. Supreme Court ever overturned Roe v. Wade, the historic 1973 decision that guaranteed the legal right to abortion across the country.
On Tuesday, voters in Alabama and West Virginia approved ballot initiatives — known as "trigger bans" — that would make abortion illegal at once should SCOTUS reverse its Roe v. Wade decision, which conservatives are hoping comes to pass soon, according to New Republic.
The two measures, which abortion proponents consider problematic and harmful, would amend their respective constitutions so that the right to safe and accessible abortion is undercut for families in those states, either by restricting Medicaid funding or by granting so-called "fetal personhood" — if not both.
Pro-choice advocates also fear that the abortion bans approved Tuesday night will open the door for lawmakers in both states to pass legislation that places further restrictions on abortion more easily, New Republic reported.
Alabama: Amendment 2
Alabama's anti-abortion measure, Amendment 2, passed with 60 percent of votes in favor of the ballot initiative, according to AL.com. The "right to life" legislation would amend the state's constitution so that it recognizes and protects the rights of "the unborn child," including the "right to life." Amendment 2 would also insert language in the state constitution that would prohibit state funds from being used to pay for abortion care, AL.com reported — in other words, similar to the federal Hyde Amendment, state funding under Medicaid would not cover abortion services, putting low-income families at a further disadvantage. What's more, the measure declares that the state constitution does not guarantee the right to the procedure, which would trigger an abortion ban should Roe v. Wade vanish, as AL.com reported.
Dr. Willie Parker, board chair of Physicians for Reproductive Health, said in a statement that the Alabama law is "so vague and dangerous" that "it strips away the rights of pregnant people and could ban any abortion care in the state." Parker continued:
As an ob/gyn and provider of abortion care, I know that every single one of us must be able to decide whether and when to become a parent — where we live, how much money we have or where we get our insurance should not dictate our dignity. Because we all love someone who has had or will need abortion care, I know that no matter the personal feelings about abortion care, we can all agree that no one, especially politicians, should interfere in health care decisions.
West Virginia: Amendment 1
It was a close call, but West Virginians narrowly voted to approve the anti-abortion measure, Amendment 1, otherwise known as the "No Constitutional Right to Abortion" amendment, according to local CBS affiliate WOWK. Like Alabama's Amendment 2, Amendment 1 would add language to West Virginia's constitution so that state funding is restricted from being used on abortion care, as WOWK reported, impacting low-income women in the state "who will continue to face significant barriers to abortion access," Parker said in his statement.
The anti-abortion initiative also amends the constitution so that the right to abortion is not secured nor guaranteed. (West Virginia, though, already has a pre-Roe abortion ban on the books, but it includes an exception to protect the life of the pregnant person, according to Guttmacher Institute.)
Parker said of both measures:
We need legislators across the country to understand that abortion is health care, health care is a right, and a right is not a right if every patient can't afford to access it.
Although these respective state measures are meaningless for now, they would have huge implications for families in the state if SCOTUS overturns Roe v. Wade. And with the confirmation of Judge Brett Kavanaugh to the country's highest court, that reality may be closer than hoped for.