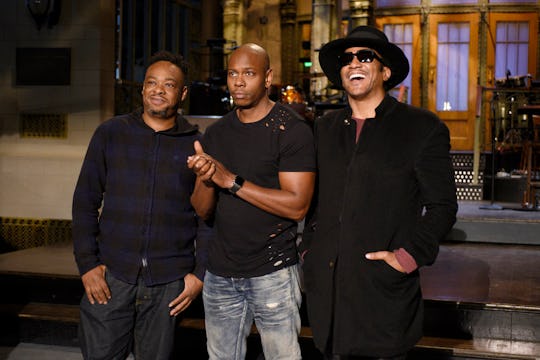 Rosalind O'Connor/NBC
Dave Chappelle's 'Walking Dead' Spoof On 'SNL' Brought His Famous Characters Back To Life
One of the things fans were most looking forward to as soon as it was announced that Dave Chappelle would be hosting Saturday Night Live was the return of his most famous characters from his sketch comedy show, and he did not disappoint. Basically, Dave Chappelle's Walking Dead spoof on SNL brought his famous characters back to life, proving that nothing Chappelle has ever done has gone out of style. He prefaced the skit by talking about his own love and fascination for the AMC show, while giving away a huge spoiler that may have angered fans everywhere who were behind with the show.
In the Walking Dead spoof on SNL, Chappelle played Negan, the resident bad guy on The Walking Dead, and replayed the popular Season 7 opening scene in which he chooses who to kill out of Rick's group of post-apocalyptic survivors. In the spoof on SNL, Chappelle did the same thing, but the victims he picked from were all his former characters from Chappelle's Show, who fans still remember today. It was an amazing callback to the show that people still watched, even in the final season when Chappelle was noticeably absent. He's always just been that good.
Along with fan favorite Tyrone Biggums, Chappelle brought back the black white supremacist from the very first season of his show, his white newscaster, his version of Lil' Jon, and Silky Johnson, the pimp who was once named "Player Hater of the Year" on Chappelle's Show. In the Walking Dead spoof on SNL, Chappelle ended up killing Tyrone, who's main goal was to get his hands on some drugs, as per usual, while his other personalities watched on in horror
So while it was a legitimate spoof of one of the most epic scenes of The Walking Dead to date, it was more like a reunion of a bunch of historic Chappelle characters that everyone has missed dearly.
Chappelle's Show ended in 2006 and since then, the comedian has been taking gigs with different stand-up shows throughout the U.S. and Canada too, shying away from going back to creating any new version of his former sketch comedy show that so many fans still quote today.
There might not be any plans in the near future for Chappelle to return to TV with new seasons of Chappelle's Show, but by bringing back some of the greats in the Walking Dead spoof on SNL, he gave fans something, and you have to love him for that.