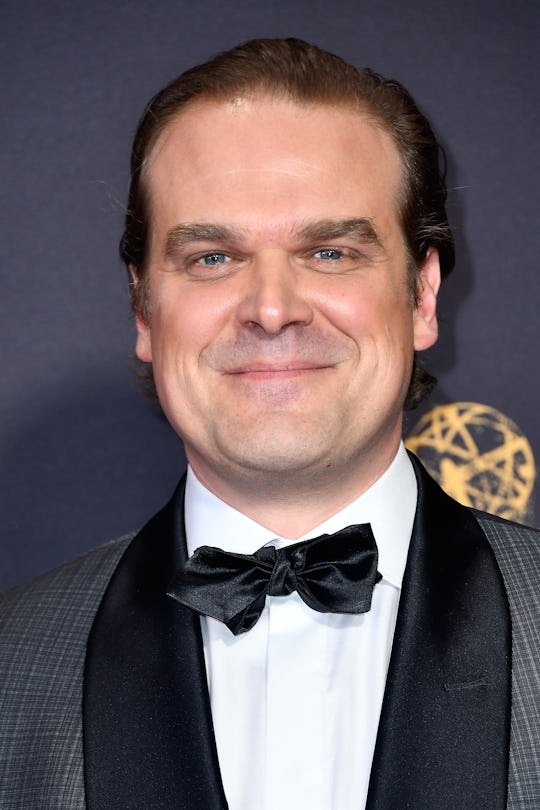 Frazer Harrison/Getty Images Entertainment/Getty Images
David Harbour Is Snubbed At The 2018 Golden Globes, & Twitter Isn't Happy
If you didn't already want Sheriff Hopper from Stranger Things to adopt you, then David Harbour's much larger role in Season 2 probably did it for you. It was thanks to this more important role that he got his first ever Golden Globe nomination, so when David Harbour was snubbed at the 2018 Golden Globes, Twitter took it hard. And really, it was hard for all of his fans/surrogate children. But to be fair, he was up against some other big talent for his first time being nominated.
For the Best Performance by an Actor in a Supporting Role in a Series, Limited Series, or Motion Picture Made for Television category for the 2018 Golden Globes, there were also nominations for Alfred Molina, Christian Slater, Alexander Skarsgard, and David Thewlis, who all carried some pretty big weight in their respective series this past year. My guess is that it's an honor to simply be nominated, though, and since Stranger Things is still in its early stages as a Netflix Original series, there's still plenty of time for Harbour to nab some big awards in the future.
But, understandably, Twitter had some thoughts about Harbour's Golden Globes snub, even if the nomination served as a sort of recognition of his work for the series this past season.
During Season 1 of Stranger Things, Harbour had an important role as the sheriff of the small town of Hawkins, Indiana when there was suddenly an onslaught of government officials and scientists invading the neighborhood to track down a child they wanted to continue experiments on. Trusting his own judgement, Harbour did his best to help protect Eleven and work with Mike and the rest of the gang to try and keep her out of harm's way.
It was Season 2, though, that really expanded on Harbour's role in all of this and made him Eleven's official guardian. But because of some of the more intense scenes between the two of them and his larger role in general, he definitely deserved that Golden Globe nomination this year. And in a lot of fans' eyes, he deserved the award itself as well.
Can anyone really blame his fans though? They're just looking out for everyone's favorite Stranger Things dad. Well, aside from Steve Harrington, but that's another story.
Honestly, if Harbour had been nominated for supporting actor after Stranger Things' inaugural season, that wouldn't have been surprising, but for the 2017 Golden Globes, Winona Ryder was the only nominated actor or actress from the series.
For the 2018 Golden Globes, Harbour was also the only actor to get a nomination, though the series itself was nominated for Best Television Series, Drama. At the very least, though, he seems to be a good sport about the snub this time around.
When it was revealed that the Stranger Things star was nominated for a Golden Globe in 2018, he took to Twitter to post a heartfelt note that will make you want to be adopted by both him and the fictional Hopper all over again.
"It's gratifying to be seen for my work and to be in a category with such esteemed colleagues. The work I do on [Stranger Things] has been the most satisfying of my career, due to the brilliance of all departments," Harbour tweeted. "My co-stars are all so inspired and inspiring to work with on a daily basis, and I surely wouldn't be nominated without the special chemistry I had this past season with Millie, Winona, Finn, Noah, Sean, Paul and all the rest. Their work makes me shine. They make it easy for David and Hopper to look good."
Even though Harbour was snubbed at the 2018 Golden Globes and didn't walk away with what would have been a much deserved award for his work with Stranger Things, being recognized for the effort he's put into the role is still something for which he seems more than grateful.
Check out Romper's new video series, Romper's Doula Diaries:
Watch full episodes of Romper's Doula Diaries on Facebook Watch.