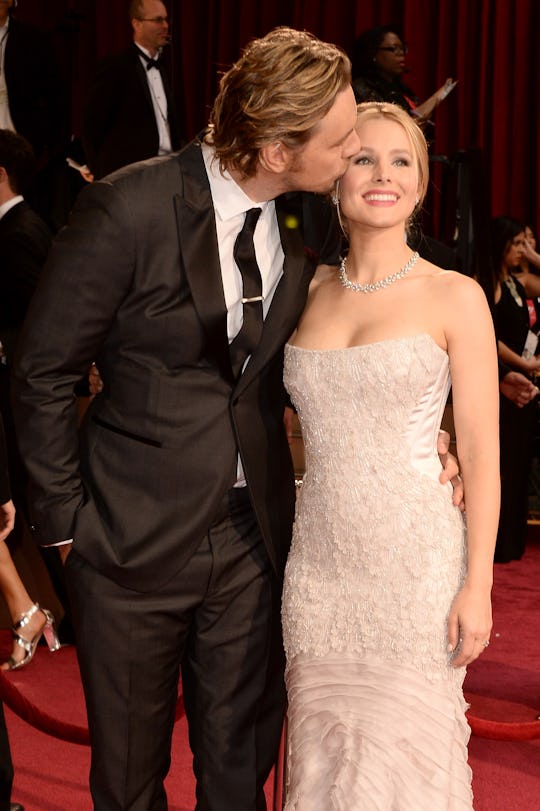 Frazer Harrison/Getty Images Entertainment/Getty Images
Why Dax Shepard & Kristen Bell Don't Believe In "The One" Is Refreshingly Honest
It's easy to romanticize Hollywood couples, since we always see them at their best. Dressed up on a red carpet with their spouse on one arm, it's easy to generalize about one's love life, make a joke about soulmates, and move on. Thankfully, some people actually keep it real, like Dax Shepard and Kristen Bell, who don't believe in "The One" and consistently remind their fans that true love takes a lot of hard work. It's refreshing to hear that celebs are actually "just like us" and have complicated relationships, too.
The 42-year-old Parenthood actor told Us Weekly that he and the 37-year-old Bell don't believe in "The One," explaining:
We don't believe in the fairytale. We don't believe that you can meet someone and you have a perfectly matching personalities. We are opposites and it has taken a tremendous amount of work and therapy for us to coexist.
Most importantly, he wants fans to understand that, which is likely why he's so open about it. "My only fear is that people see us and think, 'Oh, I just need to find my Kristen Bell.' That's not true," he told Us Weekly. "You'll find your Kristen Bell but guess what, now the work starts. [Relationships] are labor intensive. If you want them to last they are labor intensive."
This isn't the first time the couple's been really open about all the work a marriage takes, especially when you're busy working parents like Shepard and Bell are. Bell told People last year:
We have a very healthy marriage and we got there by doing therapy when we needed it, and constantly doing fierce moral inventories. We both take responsibility when we are wrong, and I think it is easy to work with him because I married him, because I enjoy spending time with him and I trust him. That is exactly what I want in someone that I work with.
Shepard's always said the same thing, too. Last spring, he said on Good Morning, America that he thinks it was a great idea that he and Bell, who married in 2012, went to couple's therapy early on in their relationship, before it was a crisis. For them, it was about prevention. According to his interview with Good Morning America, he said:
We went to therapy early on to learn what our pattern of arguing was and where we needed to stop that. It's great too, because you go to the therapist and he listens to you talk for about 30 seconds and then he's like, "I got it."
Being realistic is obviously something this couple is good at. Believing that your partner is your soulmate and that everything just "vibes" between you is fun and romantic, but that's not always true. And learning how to effectively communicate with each other is the key to a healthy relationship, according to relationship counselors over at the American Psychological Association.
Sara Nasserzadeh, a psychologist, told CNN, "There is communication, and then there's effective communication. Both parties need to feel heard, soothed, respected and cared for first. We analyze old communication patterns and then replace them with feasible and more effective ones."
Which is one reason that it's a good idea to consider going to therapy together before major life and relationship changes, like when you first move in together, decide to make it official, have kids, move across the country. Anything, really, according to Psychology Today.
Because a lot of times, people tend to push away some of their seemingly little problems in the name of the greater good, but then it ends up blowing up into a major crisis, according to the APA.
Just like it's better to eat healthy and balanced on the regular instead of crash dieting when you can't fit into your favorite jeans, going to therapy — or at least always checking in with your partner — is a good way to keep the pulse of your relationship. Because there's no shame in admitting that your relationship isn't perfect or gets tough sometimes. It happens to everyone, even the ever adorable Kristen Bell and Dax Shepard.
Check out Romper's new video series, Romper's Doula Diaries:
Watch full episodes of Romper's Doula Diaries on Facebook Watch.