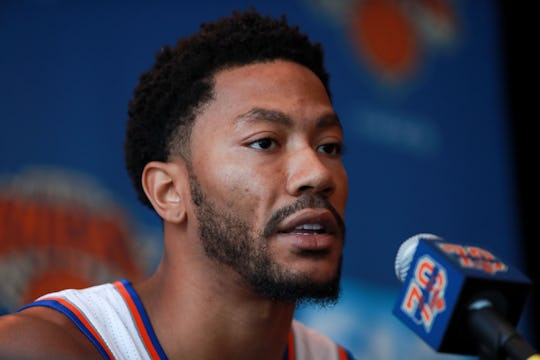 Michael Reaves/Getty Images Sport/Getty Images
Derrick Rose Cleared Of Rape Charges & His Lawyer's Argument Is Terrible
The civil sexual assault case against a prominent NBA player has come to a devastating end for his accuser. New York Knicks point guard Derrick Rose has been cleared of rape charges at the culmination of a trial that lasted two weeks and forced the accuser to use her real name in court, demanded she recount details of her sexual history with Rose, and subjected her to relentless attacks on her character and the expression of her sexuality before the incident in August 2013, when she claimed Rose and two friends gang raped her. Rose and the other men have maintained that the sex had been consensual, but his attorney delivered what was perhaps among the worst of the indignities of the process, saying during closing arguments that the woman had invited the men into her bed with "open arms and open legs."
In a Los Angeles federal court Wednesday, a jury hearing the case, in which the now-30-year-old woman was suing Rose for $21.5 million, deliberated for about three hours before clearing Rose, Randall Hampton, and Ryan Allen of the charges, The Los Angeles Times reported. The case was a tricky and predictably polarizing, as there was no physical evidence.
"All three men were one hundred percent innocent," Rose attorney Mark Baute wrote in a statement to Romper. "Because we respect the rape shield laws, we also respect the plaintiff and will not and have not release her name to anyone. The media reporting on this case was the most biased and abusive I have ever seen, and was completely tilted against three young black men."
So, although the woman testified that she was unconscious after a night of partying with the three men and that they broke into her home to have sex with her, the defense was able to successfully argue that she had consented. That reasoning hinged largely on that fact that the woman was in a nonexclusive relationship with Rose before the alleged assault and had willingly had sex with him in the past. By that logic, of course she must have welcomed the men with "open legs" in any situation — even though she allegedly did not respond to the reported 11 texts and calls from Rose before he entered her apartment, as court records obtained by ThinkProgress show.
"I submit to you all, this is young 20-somethings doing what young 20-somethings are doing all over the country," Baute said during the trial, according to The New York Daily News.
Most telling, though, that the interaction between Rose and his companions and the woman may not have been a typical consensual experience is the great lengths the defense went to to use her past behavior to prove that she had wanted to have sex with the three men at the time of the alleged assault, despite evidence to the contrary (such as the fact that she was reportedly so intoxicated while partying that she burned herself).
Rose's legal team submitted evidence that the accuser had texted him in the early morning hours of August 27, 2013, after leaving his Beverly Hills rental home in a cab, imploring him to come to her.
"We had sex with her back at the [Beverly Hills] place, so I figured, I mean, we should bring condoms just in case we stayed at her place," Allen said during the trial, according to The Daily Beast. "These messages indicated she wanted to have group sex at some point."
A comment Rose made on the stand was similarly telling: "When she sent texts like that, 99 percent of the time, it ended with sex," he said, the Daily News reported. "So what do you expect?"
These admissions reveal that the men believe (or claim to believe) that a person who consented to sex or has showed interest in it in the past is down for it whenever. An instructive video from the Thames Valley Police uses a simple analogy to explain why that is not always the case: A person who wanted tea last week does not necessarily want it this week. If they say that they want tea but then change their mind or become unconscious by the time it's all brewed, do not force them to drink the tea.
Likewise, Rose's defense lobbied the court not to permit the alleged victim to use a pseudonym in court in part based on the fact that she had posted sexual photos on Instagram. The request was granted. Here's what they wrote:
Of special note, Plaintiff is publicly portraying herself as sexual. The production includes photos from Plaintiff's Instagram account that are sexual in nature. In these images, Plaintiff is dressed in provocative attire, is in sexually suggestive poses, and is in photographs indicating that she engages in sexually charged encounters with more than one man at a time. Plaintiff's use of Twitter and other forms of social media further belies her apparent desire for anonymity.
Rose has been cleared of the civil charges against him, although the Los Angeles Police Department is still investigating the case (no criminal charges have yet been filed). It's impossible to know for sure what happened in the accuser's apartment in those early morning hours more than three years ago, but it's worth remembering and repeating that a woman's past behavior or statements should not give others license to touch her in a way she does not want them to in that moment. To say that the woman welcomed Rose and his crew with "open legs" is crude and insulting, and exposes a glaring flaw in the way many people think about consent and women's bodily autonomy.