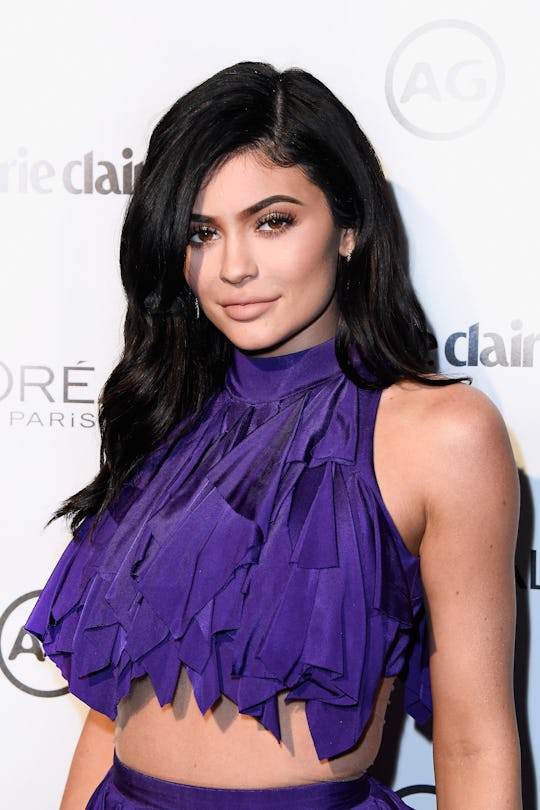 Frazer Harrison/Getty Images Entertainment/Getty Images
Details About Kylie Jenner's Nursery Will Make Your Wallet Hurt
Shortly after Kylie Jenner took to Instagram on Sunday to announce the birth of her daughter, Stormi, information started pouring in about her life as a new mom. People are downright fascinated by this new version of Jenner, to say the least, and fans want to know everything from how she prepped for Stormi's arrival to how she's adjusting to motherhood. And if you can't help but keep up with all of the baby info, there's a good chance you'll be interested by these rumored details about Kylie Jenner's nursery. Spoiler alert: Stormi is already living large.
In the pregnancy reveal video Jenner released on Sunday, sweetly titled, "To Our Daughter," fans caught some glimpses of Stormi's lavish nursery. The footage revealed that Stormi will never want for a pair of expensive kicks (racks upon racks of tiny shoes, people) or a cute outfit. The nursery, which Jenner adorned with butterflies, looks like a baby clothing store or some sort of miniature-mall. Considering many adults struggle to afford clothes and storage space (I keep my clothes in the same closet where I store my cleaning supplies because city living), Stormi's decked out nursery impressed quite a few fans.
Of course, Jenner did more than just fill Stormi's nursery with a mountain of clothes and shoes. Apparently, Jenner also went out of her way to ensure that Stormi grows up in an organic and sustainable environment, according to TMZ. And yes, that's just as expensive as it sounds.
Jenner, who is clearly following in the footsteps of her eco-conscious older sister, Kourtney Kardashian, made sure the nursery's painted items were chemical free and that anything wooden originated from sustainable suppliers.
Jenner reportedly bought a $3,500 hand-finished Bancroft changing table and a $400 organic premium crib mattress from a high-end baby store in Los Angeles called Petit Trésor, according to Cosmopolitan.
Stormi's dad, Travis Scott, also bought a bunch of wooden teethers coated in "bee's wax and cold pressed flaxseed oil" for a more budget friendly price of $29, according to Petit Trésor's website.
Although the cost of these items might make the average person's wallet hurt, it's probably just a drop in the bucket for Jenner, who boasts a net worth of $50 million, according to Metro. Translation: Stormi will be set for life.
And it goes without saying that Jenner has every right to dote on Stormi and to decorate her nursery however she sees fit. Jenner, according to her close friends, has always wanted to be a mom and one can only imagine how thrilled she was to design Stormi's room. In fact, a report published in January claimed that Jenner put together her nursery ASAP. "She's a go-getter like her mother [Kris Jenner]," a supposed insider told Us Weekly. No way she waited long to set that up."
Also, it's important to keep in mind that this is Jenner's first child. Many first-time parents go above and beyond for their baby's arrival, or at least they go a little overboard with prep because they're unsure about what to expect. There's no reason to fault a person, massive net worth or not, for wanting the best for their child.
It's interesting to note, however, that Khloé has little interest in following in Kylie's and Kourtney's health conscious footsteps. Khloé joked during an interview in January that she's feuding with Kourtney over plastic baby toys.
Khloé joked about Kourtney's stringent rules, according to PEOPLE:
You can never have a plastic toy, ever! If someone buys blocks, I'm allowed to have blocks! Let me experience things. It's either her way or no way. It's not what you say, it's how you say it.
To each their own, right?
Check out Romper's new video series, Bearing The Motherload, where disagreeing parents from different sides of an issue sit down with a mediator and talk about how to support (and not judge) each other's parenting perspectives. New episodes air Mondays on Facebook.