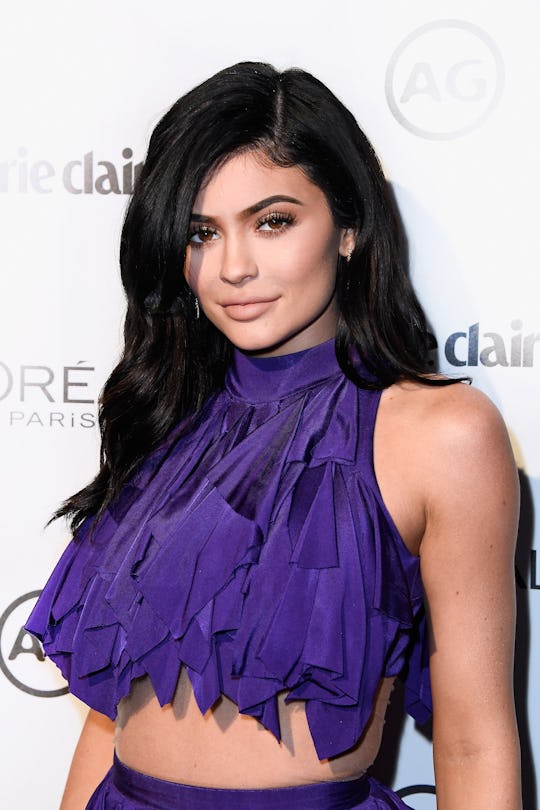 Frazer Harrison/Getty Images Entertainment/Getty Images
Photos Of Kylie Jenner's Daughter's Nursery Prove This Baby Is Set For Life
Kylie Jenner's daughter is only a handful of days old, but her nursery is already fully stocked with everything a baby could ever need (to look fashionable, that is). Jenner announced the birth of her baby girl (as well as finally confirming that she had been pregnant) on Sunday with a heartfelt Instagram post and a YouTube video chronicling her pregnancy. Interspersed with clips of Jenner's baby shower, other family events, and the then-expectant mother eating for two, were shots of Kylie Jenner's baby's nursery, which prove she is set for life. Seriously, she could just sell a few of the designer items when she gets older and have cash for years.
In one shot, Jenner's best friend Jordyn Woods gifts her and Travis Scott with a pair of Nike Jordans. "Aw ... these are so cute," Jenner tells her. "The first ones ever made," Woods replies. The video then cuts to Jenner placing the shoes on a shoe rack in the closet of your dreams. The camera pans down, revealing rows and rows of teeny-tiny Uggs, Converse, Nikes, Timberlands, and more. Luckily, it looks like there are plenty of different sizes, considering children's feet grow pretty quickly. And even if she outgrows a few pairs before she has time to wear them, her cousins Chicago West and Khloé Kardashian's soon-to-arrive baby can totally share.
The video also gives fans a look at the clothing portion of the closet, which is filled with endless baby clothing hanging on matching hangers. There seems to be a variety of sizes and seasons, so hopefully Jenner's little one will have a chance to pose for an Insta photo in each look. Hey, any chance any of those outfits are hand-me-downs from her other cousins?
Jenner also gave us a glimpse into some of her nursery's decor in the video. She has a few books on display on a floating shelf, including I Love My Mom, Mary Had a Little Glam, and Guess How Much I Love You.
The pink walls are covered in a butterfly motif — a symbol that is super meaningful to the couple.Earlier in the video, there is a close-up shot of Jenner wearing a butterfly necklace. The camera zooms in on the thick-chained piece of jewelry and shows Jenner placing her hand on it.
Additionally, Jenner and Scott got matching miniature butterfly tattoos on their ankles last year.
And in November, Jenner started rumors that she was expecting a girl with a butterfly-related photo. She Instagrammed a picture of her left hand decked out in pink nail polish and pink diamond-encrusted butterfly rings. (I think they're rings? They seriously look like they're just floating on her fingers.) The photo had fans jumping to some pretty wild conclusions (that actually turned out to be true). People thought the photo was Jenner's subtle way of revealing that she was having a baby girl, considering her and Travis Scott had matching butterfly tattoos, and because everything in the picture was so pink.
The repeated butterfly references in their lives as well as in the pregnancy journey video has fans wondering: Did Kylie Jenner and Travis Scott name their daughter Butterfly? Choosing a unique baby name is definitely not unusual for the KarJenners — read: North, Saint, Chicago, Dream, Penelope, Mason, and Reign — so a name like Butterfly wouldn't be too out of place.
Whatever Jenner and Scott named their baby, it's clear that she was born into a loving family that is able to provide her with whatever she needs to give her a happy and healthy childhood.