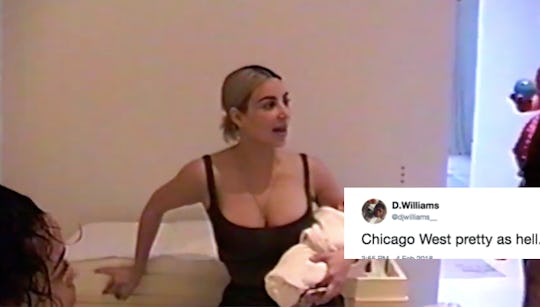 Kylie Jenner/ YouTube
The First Images of Chicago West Are Here & They're So Adorable
Kylie Jenner broke the internet on Sunday when she released an 11-minute video on YouTube announcing not just that she has been pregnant this whole time, but that she gave birth to a sweet baby girl on Friday. There are so many wonderful things about this reveal, but one of them is that Chicago West appears in Kylie Jenner's pregnancy video. Because there was no way Kim was not going to be involved in some major way.
In case you were too busy marinating your Super Bowl wings and haven't seen the video yet, allow me to fill you in. It's a freaking work of art is what it is, and it's full of predictable and wonderful Kardashian-Jenner family gems. The video starts with Kylie's friend Jordan Woods narrating how the entire squad found out that she was pregnant.
It proceeds with clips of Kylie's baby bump, her and Travis snuggling, going to doctors appointments, and even spending time with both of their families over the holidays, totally squashing any rumors that they were somehow on the rocks. She shows off adorable baby Air Jordans and we get a sneak peek of her in the drive-through satisfying her pregnancy cravings.
The video moves through her pregnancy chronologically, so eventually we get to just a few weeks ago when Kim and Kanye's surrogate gave birth.
There's an entire scene where a very, very pregnant Kylie meets Kim's baby — still without a name. Kim tells her sister that she thinks they'll name it Chicago as she gently hands her baby sister the infant to hold. Kylie is a natural.
Since the whole family is obsessed with taking pictures and making home videos (I told you this video was peak Kardashian), Kim shoots a pic of Kylie holding Chicago, along with baby Dream and Rob Kardashian, rocking his signature baseball cap. The video zooms in on baby Chi, whose name is approved by Kylie, Kim's favorite tastemaker.
In the scene, Kim jokes that she has to educate Kylie on what her vagina is going to feel like after birth, to which Kylie laughs and replies that she doesn't want to know. Kim, ever the big sister, looks super concerned for her baby sister. Then the video moves on. It's brief, but the scene with Kim is more than just a slick way for Momager Kris Jenner to announce not one, but two babies (this is the first time the world has seen baby Chicago).
If you'll recall, the most popular theory when the rumors broke in September that Kylie was pregnant was that she was *actually* Kim's surrogate. And when Kim and Kanye announced their daughter a few weeks ago, people on social media still thought that something was up with so many pregnant sisters. Given how dedicated conspiracy theorists usually are, showing both newborns was the way to go, whether it was intentional or not.
As out there as it might sound, there had to be a scene with Kylie, Kim, and both babies. While we don't see both newborns in one shot (we don't see Kylie's daughter until the very end when she is laying by her mama), we do see a pregnant Kylie holding soon-to-be-named Chicago. Plus while Kim is holding Chicago, that's when she tells Kylie she needs to warn her about her vagina.
Now there's definitive proof that Kim has a new baby and Kylie has a new baby — no one was carrying a child for their sister. Because you just know that someone would have still floated the idea if not.
You can say whatever you want to about the Kardashians and the Jenners, but they really know how to make an announcement. To be totally honest, this video was the perfect way to announce the pregnancy and the birth of her baby girl. And also allow her big sister to show off a little, too.
Check out Romper's new video series, Bearing The Motherload, where disagreeing parents from different sides of an issue sit down with a mediator and talk about how to support (and not judge) each other's parenting perspectives. New episodes air Mondays on Facebook.