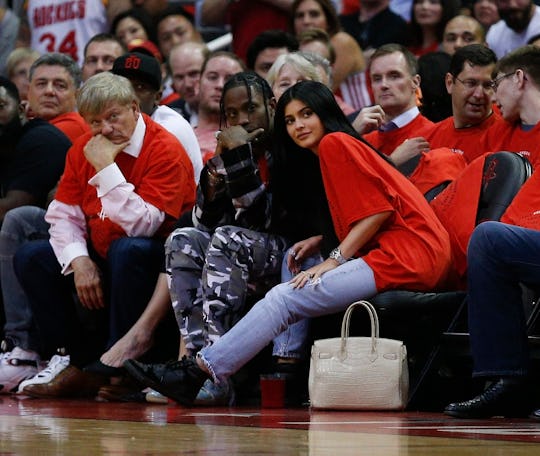 Bob Levey/Getty Images Sport/Getty Images
7 Of The Most Ridiculous Rumors About Travis Scott & Kylie Jenner's Relationship
Ever since rumors started in September that Kylie Jenner is allegedly expecting her first baby with rapper Travis Scott, the internet has been rife with gossip about the two. But some of the most ridiculous rumors about Travis Scott and Kylie Jenner are so out there that it's tough for even the most dedicated gossip fiend to pass along. Romper's request for comment on their relationship status as well as the pregnancy rumors from both Kylie Jenner and Travis Scott's representatives was not immediately returned.
It doesn't help that 20-year-old Kylie hasn't confirmed or denied the rumors at all since the anonymous sources started talking. Or that Scott and Kylie had been together for just a few months before she reportedly got pregnant in the first place. For the longest time, Kylie was with rapper Tyga, before the two broke up sometime last April. She explained on Life of Kylie that there wasn't some intense blowout that ended it between them. According to People, the youngest Jenner sister said:
There was absolutely not one thing wrong with me and T. He and I will always, always have a bond. There was no crazy fight, we just decided…Well, I decided that I'm really young. I don't want to look back in five years from now and feel like he took something from me when he's really not that type of person.
Shortly after their breakup, she began seeing Travis Scott, which would mean that she is reportedly pregnant with her "rebound fling." Or not, again, Kylie has yet to address any of this. But the fact that she's been linked to both men, that she's so young, that she refuses to address the rumors in public, and that Travis Scott is photographed out on the town quite often all mean that people are talking — and here are just some of the most ridiculous rumors about the young couple.
Travis Scott Denies Being With Kylie At All
Scott has kept mum about the pregnancy too, as W Magazine reported, but his reluctance to do so has led some people to believe that he's totally disavowing her instead of just sticking to Kris Jenner's probably perfect PR plan for the alleged pregnancy reveal. According to Billboard, Scott said in regards to his relationship with Kylie, "I don't want to talk about that. They're just guesses. Let them keep fishing." Ouch.
Travis Scott Was Spotted "Flirting" With Blac Chyna
Yikes, Kylie just can't escape Blac Chyna. Her ex, Tyga, had a son with Blac Chyna before they started dating. Then Chyna had a daughter with her brother, Rob Kardashian. Now, according to Hollywood Life, Scott was allegedly being unfaithful to Kylie when sources reportedly spotted him "flirting" with women, including Blac Chyna back in December. Chyna is reportedly still suing Kim Kardashian for defamation, according to Us Weekly, so this would be all sorts of messed up.
They Had A "Blowout" Fight
According to Radar, the couple allegedly had a huge fight. A source said:
Kylie and Travis got into a blowout fight after he showed up unexpectedly to her mother Kris' house, where she's been staying lately. She flipped out on him and accused him of cheating on her with several women during her pregnancy, including a girl that she is kinda friends with!
One Of Them Might Be Kendall
Ugh, this is the worst one. According to Metro UK, Scott allegedly once had a fling with Kylie's sister Kendall Jenner and bragged about it. A source close to him told the outlet, "'He's been boasting that Kylie's way better in bed than Kendall and has more to play with, but Kendall's got more personality." Ugh...
Kylie Is Moving To NYC
According to Pop Culture.Celebrity, Kylie and Scott allegedly had a huge fight, broke up, and now the Calabasas native wants to move to the Big Apple. "Kylie really thought her future was with Travis and the baby, so the split came as a huge surprise. She's going through a very dark time with her mood swings and changing body shape, plus her romance is in ruins, so she's decided she needs a change and has always loved New York," the source said. That just doesn't sound right... at all.
Chicago Is Really Travis & Kylie's Baby
Some fans seem to think that Kylie already had her and Scott's baby and just gave it to Kim and Kanye to raise. Everyone, this is straight up ludicrous.
Travis Bailed On Her
Wendy Williams has been rough on the young lovers. Earlier this month she speculated about why "Kylie remains silent." Williams added, "Well, why do you think? I guessed right away: because she's not with Travis Scott anymore." She went on, according to BET:
Please, that was a split and run, in my mind. Like, the condom split, she took the test and was probably like, "Oh my God, what do I do now? Travis!" He's like, "No, I'm a rock star. You got plenty of money on your own. Figure it out... I'll pay child support from afar."
Until the makeup mogul comes forward with either an infant or an explanation for her low profile these past few months, rumors like these will continue to circulate and fans should always take them with a massive grain of salt. Hopefully, for her mental health, Kylie's staying off social media and missing all the hate. Because some of these are just downright mean.
Check out Romper's new video series, Romper's Doula Diaries:
Watch full episodes of Romper's Doula Diaries on Facebook Watch.