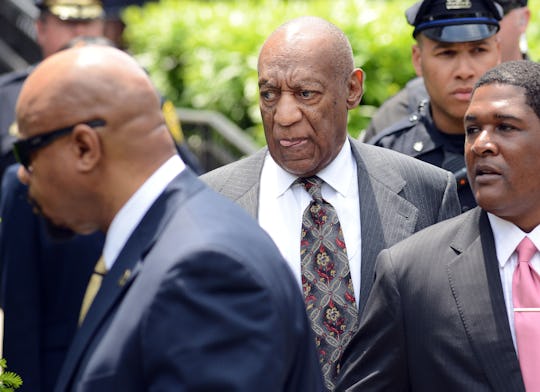 William Thomas Cain/Getty Images Entertainment/Getty Images
Developments In Bill Cosby Sexual Assault Trial Are Bad News For The TV Star
Bill Cosby, known to many as one of America's favorite TV dads on the classic '80s and '90s nostalgic Cosby Show, has been accused of sexual misconduct by more than 50 women. One of his accusers, Andrea Constand, claimed Cosby, now 78, sexually assaulted her in his home outside of Philadelphia in 2004. (Cosby has denied all allegations against him.) A preliminary hearing on the case was held on Tuesday – and the latest developments in Cosby's sexual assault trial are bad news for the TV star.
A judge this week ruled that Constand's sexual assault case against Cosby will move forward with a trial, despite the defense's attempts to have the evidence in the case tossed out. The comedian's defense team has long fought to have the charges dismissed on the grounds that the evidence provided by the prosecution was not adequate to take the case further. On Tuesday, Judge Elizabeth A. McHugh disagreed.
The preliminary hearing on Cosby's alleged sexual misconduct in 2004 was held at the Montgomery County Courthouse in Norristown, Pennsylvania and lasted for more than three hours, The New York Times reported. By the end of the session McHugh ruled that Cosby's case would next go to trial for the sexual assault charges led by Constand's prosecutors. According to CNN, Cosby faces three counts of felony indecent assault, and if convicted, he could receive up to 10 years in prison.
"The evidence presented today was evidence of nothing," Cosby's attorney Brian McMonagle said according to CNN. "They had 12 years to bring an accuser to confront Mr. Cosby. They chose not to." He continued,
There was no evidence of a crime here. And the inconsistencies that plagued this investigation from the beginning continue to plague it now. This case should end immediately.
Constand is a former staffer of Temple University – Cosby's alma mater. She alleged that Cosby invited her to his home in January 2004, when he reportedly gave her pills and then allegedly sexually assaulted her.
Last December, Cosby was charged with a second-degree felony of aggravated indecent assault in Constand's case, just beating Pennsylvania's 12-year statute of limitation for felony sex crimes. The varying statutes of limitations in states across the country have limited the opportunity for many of Cosby's accusers to take legal action. But for Constand, a newly elected district attorney in Montgomery County, Kevin Steele, reopened the case against Cosby.
"We are here because we want to seek the truth," Montgomery County District Attorney Steele said in a press conference according to The New York Times. "We are here because we want to seek justice."
Constand brought a civil suit against Cosby in 2005, in which Cosby settled confidentially in 2006. Constand did not appear in court on Tuesday, but a Montgomery Court detective read parts of her 2005 statement to the police. According to CNN, Cosby's next court date will be July 20. The date for the trial has not been reported yet.