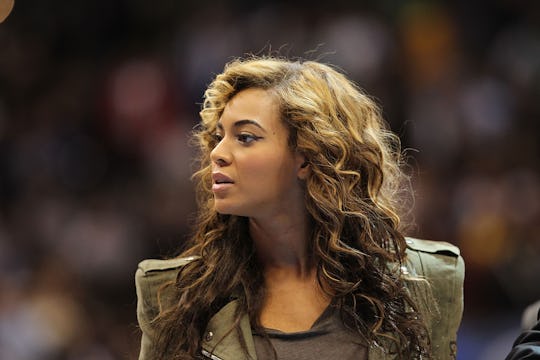 Ronald Martinez/Getty Images Sport/Getty Images
Why Didn't Beyonce Perform At The Harvey Relief Telethon?
On Tuesday night, actors, performers, and celebs of all kinds came together for a multi-network telethon to benefit the victims of Hurricane Harvey and raise awareness for those in Florida, still reeling from Hurricane Irma. Given that she's a Houston native, and her outpouring of support last week for her city, it was very, very possible that the Queen herself was going to show up for a performance. So did Beyoncé perform at the Harvey relief telethon or not?
Although there was a slew of great performances by all kinds of artists, Bey did not actually perform. It was pretty sad. She did, however, record a heartfelt video message in which she urged people to come together for Texas and call in and donate as much as they could. But for Beyoncé it wasn't just about helping the victims of Harvey. In her impassioned video message, she tied the reaction to the disaster to politics and climate change — basically pleading for the nation to come together just this once.
She said:
Natural disasters don't discriminate. They don't see if you're an immigrant, black or white, Hispanic or Asian, Jewish or Muslim, wealthy or poor. It doesn't matter if you're from Third Ward or River Oaks, we're all in this together. Seeing everyone of different racial, social and religious backgrounds put their own lives at risk to help each other survive, restored my faith in humanity.
She added, "During a time where it's impossible to watch the news without seeing violence or racism in this country, just when you think it couldn't possibly get worse, natural disasters take precious life, do massive damage and forever change lives, leaving behind contaminated water, flooded hospitals, schools and nursing homes."
And although the Bey Hive totally understands that the telethon for Harvey relief was not about Beyoncé making an entrance and swinging from the rafters in a magical rendition of "Formation," it really would have been pretty amazing if it had happened.
Not that it wasn't a good idea to have her name attached to the whole telethon — it likely drew in some extra viewers, though it's not clear if any of the almost $15 million raised by the end of the broadcast (the phones and website are open all night to donate, so that's not a final tally) came from Beyoncé fans alone.
But before you get all up on Beyoncé for not taking the stage, consider that she's really already done a lot for her home state.
Last week, she visited the church she grew up going to, St. John's United Methodist Church, with her mother, Tina Knowles, Blue Ivy, and Michelle Williams. There, she addressed the crowd, took pictures with over 400 attendees, and also served food at a luncheon for the community.
Her message to her congregation was similar to the one she gave the nation on Tuesday night at the telethon:
This church is my home. I was maybe 9 or 10 years old the first time I sat there where my daughter is sitting. I sang my first solo here and I just wanna thank you for lifting my family up, for praying for me, and for being such an incredible example of what light and love is. This today is a celebration of survival.
Before touching down in Texas, her pastor, Rudy Rasmus, said that the singer had made a "significant" donation to the parish and was in talks with St. John's to figure out how she can help going forward. If you go to the BeyGOOD Foundation website right now, you can donate to the hurricane victims, too. So it's not like she's being selfish or ignored the situation at all.
On the contrary, she's been using her platform as everyone's favorite, well, everything, to raise money for the victims and help them rebuild. She can be forgiven for not doing a song and dance, too. Although, yeah, it would have been pretty awesome if she did.
Check out Romper's new video series, Romper's Doula Diaries: