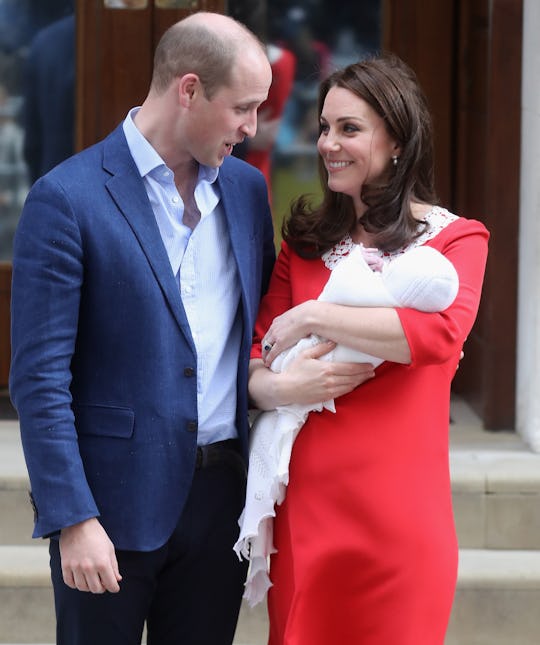 Chris Jackson/Getty Images Entertainment/Getty Images
Kate Middleton & Prince William's Name Choice For Baby No. 3 Could Be A Nod To These Royals
The world is officially a little more magical now that Kate Middleton has given birth to the third royal baby. Yes, Middleton delivered her third child on April 23, and the world was thrilled to find out that the Duke and Duchess of Cambridge had welcomed a healthy baby boy. And even though it took a four whole days for the name to be announced — Prince Louis Arthur — there's still one important question remaining: did Kate Middleton name Prince Louis after someone? Well, Prince Louis Arthur certainly covers many classic English names, but there's definitely some historical relevance behind the moniker.
"The Duke and Duchess of Cambridge are delighted to announce that they have named their son Louis Arthur Charles," Kensington Palace announced in a statement on Friday morning via Twitter. The palace added that his official title will be "His Royal Highness Prince Louis of Cambridge," just as his siblings' official titles read. Middleton gave birth late Monday morning local time on April 23, according to the official Kensington Palace Twitter account. "Her Royal Highness The Duchess of Cambridge was safely delivered of a son at 1101hrs," the account tweeted, adding that the baby weighed a healthy 8 pound, 7 ounces.
But, Middleton and her husband, Prince William, didn't announce the name of their new little bundle of joy for what felt like an eternity. Of course, choosing the name Louis for their third child was a bit unexpected, given all the hype surrounding his name, as many had Albert as one of the most popular guesses for royal baby number three. Additionally, it seems obvious that Middleton and Prince William chose the name as a nod to a few members of the family.
The name Louis certainly isn't uncommon in the British royal family and European history. Although Prince William and Middleton haven't revealed their reasoning by this name choice, it's possibly that they chose it with his grandfather, Prince Charles (full name: Charles Philip Arthur George), as well as Prince Charles' great-uncle Earl Louis Montbatten, who was killed by an IRA bomb in 1979, in mind. There's also Prince Philip's grandfather, Prince Louis Alexander of Battenberg. And, of course, there's his own father, whose full name is William Arthur Philip Louis, touching on two names. And don't forget about his older brother, 4-year-old Prince George, whose middle name is also Louis.
And his name is not only traditional; as Hello! Magazine explained, the name "Louis" means "renowned warrior," coming from French and German origin.
That's not all; with the newest royal's full name being Louis Arthur Charles, he's covering a lot of ground. Choosing one of his middle names as Arthur could have also been inspired by King Arthur, a medieval, mythological figure. Arthur was also a middle name of Queen Elizabeth II's father, King George VI, as Hello! Magazine reported. Also, as People reported, Arthur the name of "Queen Victoria's third son (and seventh child) and was said to be her favorite child."
So, yes, it's very likely that the newest royal's name is a nod to more than one royal, but it's hard to say which one until Prince William and Middleton decide to explain how they landed on his moniker. But will they?
It's hard to say. In the days since his birth, Prince William has dropped a few dad jokes and hints about his new baby boy here and there. Nothing concrete, but enough to give the people what they want. For instance, after getting caught nodding off during his first post-baby public event this week, the dad of three was asked about the royal's name and he replied: "I'm working on that one. You'll know soon," according to the Daily Mail.
And, on Friday, he delivered. It's clear that Prince Louis is named after loads of royals. Which one is the main inspiration? I guess we can keep on betting.
Check out Romper's new video series, Bearing The Motherload, where disagreeing parents from different sides of an issue sit down with a mediator and talk about how to support (and not judge) each other's parenting perspectives. New episodes air Mondays on Facebook.