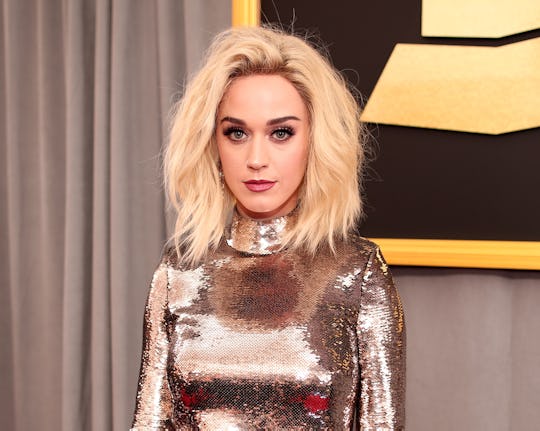 Christopher Polk/Getty Images Entertainment/Getty Images
Did Katy Perry Throw Shade At Britney Spears?
In a perfect world, most female singers would totally have each other's backs in the business, but obviously it's not necessarily like that, especially as far as the bigger stars are concerned. But did Katy Perry throw shade at Britney Spears on the Grammys red carpet? Twitter isn't happy, and they probably shouldn't be since Perry's comments, though short, were pretty obviously in their direction. When asked about her new hair, Perry commented that the one thing she hasn't done yet is shave her head and that she'll save that for when she has a mental breakdown. Obviously the first popstar that comes to mind when you think of that combination is Spears, who famously shaved her head in public in 2007.
There's no question that Spears came back from that very rough period in her personal and professional life almost 10 years ago, but it was a time that not many fans will forget. Even if you were never a huge Spears fan, you likely haven't forgotten that. So maybe Perry's comments on the Grammys red carpet were an innocent slip-up. Sadly though, this isn't the first time the singer brought up Spears's head shaving incident, so it's unfortunately very possible that she was throwing shade at Spears.
In 2015 Perry told Elle magazine about the pressure that artists face and how staying on top of the game can lead to stress and breakdowns. She told the magazine, "You think you signed up for one thing, but you automatically sign up for a hundred others. And that is why you see people shaving their f*cking heads." Maybe Perry just has some deep rooted fascination with eventually shaving her head? But no matter how you spin it, Perry was definitely throwing shade at Spears on the Grammys red carpet.
It's no big secret that Spears came long before Perry was ever singing about California girls and daisy dukes, so at the very least, it's probably smart to give respect where its due. Breakdown or not, Spears has been a staple in pop music for almost 20 years now, so Perry throwing shade at her was not only insensitive, but it was also totally disrespectful.
There's nothing funny about a public breakdown and although it was obviously a dark period in Spears's life, the big take away is that she came out of it shining and bigger than ever. So a little shade from a fellow singer, however inappropriate and uncalled for, will likely not deter her.