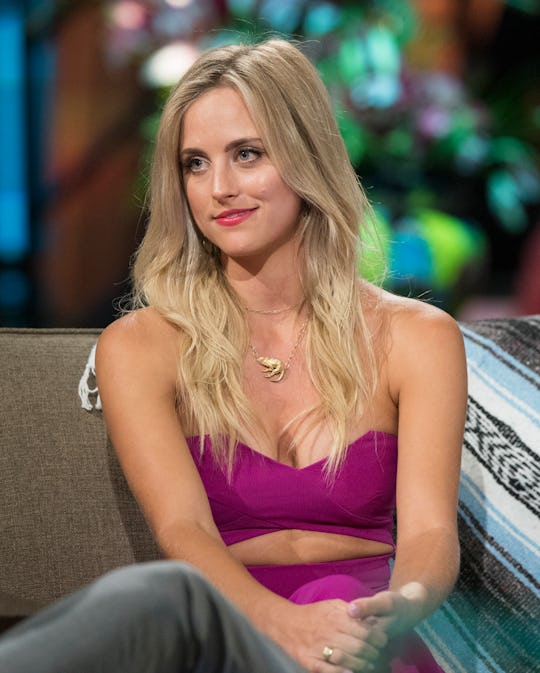 Paul Hebert/ABC
Kendall & Joe Reconnected After 'Bachelor In Paradise' Ended
All season long on Bachelor in Paradise, there was just one woman for fan favorite Grocery Store Joe. Once he made a connection with Kendall, he seemed to lose all potential interest in all of the other women and he dedicated his time to her alone. When they broke up, it was heartbreaking for fans too, but did Kendall and Joe get back together after Bachelor in Paradise? They definitely reconnected once they left Mexico.
On the Bachelor in Paradise reunion, Joe and Kendall revealed that after they reconnected in Chicago, they got back together. Joe said that not only does he love Kendall, but he loves "waking up next to her" too. According to Kendall on the reunion, they're "taking it day by day" right now, but they seem to be doing the long distance thing. Luckily, Chris Harrison made the big announcement that Joe will be on Dancing With the Stars this season, so he'll be able to spend some more time in Los Angeles, where Kendall lives.
So despite Joe and Kendall ending things on Bachelor in Paradise before they were even given the chance to get engaged, they seem like they're happier than ever. The road wasn't easy for them, but apparently they're making it work now.
What Joe and Kendall now have didn't come very easily for the pair. When Leo showed up on Bachelor in Paradise, Kendall took a chance to see what else was out there and went on a date with him. Later, Leo and Joe got into a scuffle before Leo left Paradise. But soon after that, Kendall kissed Venmo John, further complicating things with Joe.
Eventually, Joe and Kendall made things work, and for a while, they were one of the strongest couples on the show. But when things got more real for them, Kendall voiced her doubts and concerns. And since she didn't seem to be in the same place as Joe, they left Bachelor in Paradise separately.
As shown on the Bachelor in Paradise reunion, Joe and Kendall met up in Chicago once they returned to their respective homes. Maybe Kendall just needed time apart to realize that she felt strongly enough about Joe to continue their relationship in the real world, away from constant cameras. And by all accounts, they seem to be doing well together.
Until now, they've had to keep their relationship status secret since the season hadn't finished filming. But Joe seemed to eager to show their relationship to the world that right after they appeared on the reunion together, he posted an Instagram album with photos of the two of them together.
There was plenty of heartbreak this season on Bachelor in Paradise, but one of the hardest breakups to watch was probably Joe and Kendall. So seeing the couple get back together and look so happy together was kind of a relief. It almost makes you believe in the journey that is BiP.
With Joe living in Chicago and Kendall's home in L.A., their future remains uncertain. But they both seem determined to make things work, despite the long distance aspect of their relationship. Joe did say on the Bachelor in Paradise reunion that he loves Kendall, so there's definitely hope for them after the show.
It's hard to say if their meeting in Chicago is to thank for their relationship now, but Kendall and Joe do have what it takes to go far as one of the solid Bachelor Nation relationships. The only problem I see is that they won't have cameras following them around to document every adorable moment.