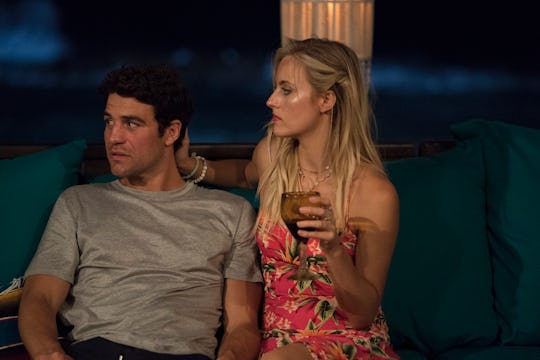 Paul Hebert/ABC
Grocery Store Joe's Relationship Status After 'BIP' Is Still Unclear
Rarely does a night one elimination on The Bachelorette become a fan favorite overnight, but somehow that's what happened for Bachelor Nation's beloved Grocery Store Joe. And when he showed up on Bachelor in Paradise Season 5, he found something real with Kendall right away. But depending on how things turn out between Kendall and Leo, it could all be over before you can say "paper or plastic." So is Grocery Store Joe single after Bachelor in Paradise? When it was announced that the one-night-wonder would be part of Paradise this season, along with several other former Bachelor and Bachelorette contestants, fans on social media rallied in support of Joe.
He gained more fans and friends from being on the show for one night than some guys do after spending an entire season competing for roses. And judging by how he's acted on Paradise, the support Joe has received has been well-deserved. He seems like one of the more genuine guys the franchise has seen in a long time and that, along with his boyish grin, have continued to captivate fans. And it also seemed to captivate Kendall. But is what they have on the show enough to have withstood the rest of the season and life outside of BiP?
After The Bachelorette "Men Tell All" last season, Joe spoke to Entertainment Tonight about his time on BiP and whether or not he left Paradise single or taken. He told Lauren Zima that although he was nervous at first being on The Bachelor spin-off, he was a lot more comfortable with the atmosphere and format of the show in general. When Zima asked if he found love in Paradise, Joe gave literally nothing away. Instead, he responded with, "You gotta wait and see." It's not all that surprising, since contestants obviously aren't allowed to reveal the end of their arcs on the show, but Joe did admit that he had a good time on the show. "I'm happy where I'm at right now," he added.
Since BiP Season 5 filming ended, Joe's Instagram posts have either been photos of himself alone or with other guys from Bachelor Nation. Unfortunately, there are no posts of himself with Kendall or any other woman for that matter, so it's hard to say for certain if Joe is single or in some kind of relationship.
There was, however, veggie burger-gate. In two different Instagram stories that they both posted and have since expired or been deleted, both Kendall and Joe were at the Summer Camp Music Festival in Illinois and they were both eating veggie burgers. In Joe's video, he also tagged Eric Digger, who was in Paradise with them, so it's possible that they attended the music festival as a group Bachelor Nation event. But it still makes it seem like Kendall and Joe are still in each other's lives after BiP.
At the end of each season of Bachelor in Paradise, the coupled contestants get a couple of different choices moving forward. In some cases, they get engaged and leave the show that way, sometimes they head to their own fantasy suite dates to see where it takes them, and sometimes they leave the show broken up. Given the latest drama with Kendall and Leo, Joe may not be in a place to actually propose to her, come the end of the season. But I still wouldn't count out the two of them getting together outside of the show, after filming was over. Maybe it's just because I believe in a happy ending for Joe specifically, but since there are no other women on his Instagram right now and he's been at some of the same events as Kendall, there's a decent chance that he's with Kendall after BiP.