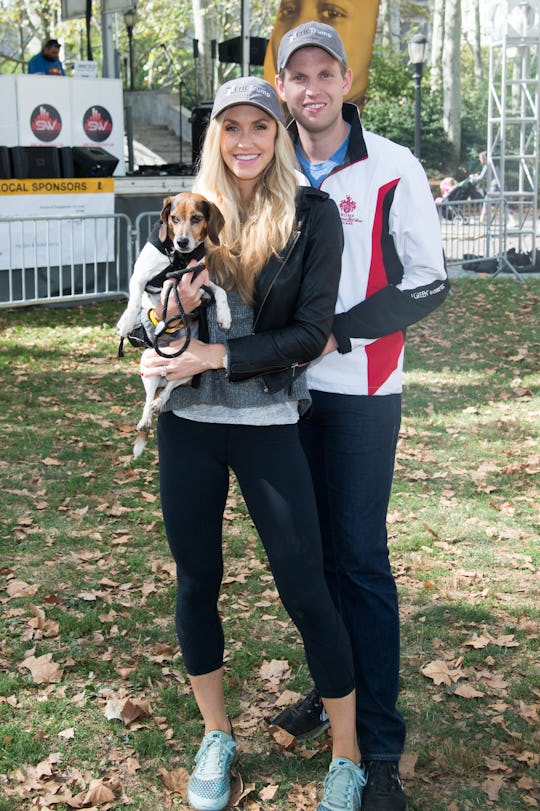 Mark Sagliocco/Getty Images Entertainment/Getty Images
Did Lara Yunaska Model? Eric Trump's Wife Was A Personal Trainer
Can you remember a time when you hadn't heard of Eric Trump? Sure, you probably vaguely knew Donald Trump had kids, could maybe even remember his daughter Ivanka just because her name was different. But otherwise, the Trump family tree probably didn't make it into your every day life. Ever since Donald Trump became the GOP presidential nominee, however... it's all Trump, all the time. And Eric Trump's wife Lara Yunaska is now making the list of Trumps we need to know about right now. Why? Because Trump.
Eric Trump, the 32-year-old executive Vice President of The Trump Organization and third child of Donald and ex-wife Ivana Trump, married Lara Yunaska in 2014. Yunaska was a personal trainer before becoming an associate producer for CBS's Inside Edition and the couple were married (where else?) at the Trump's Mar-A-Lago estate in Palm Beach. The two dated for six years before getting married and have never shared the story of how they met, which has me hoping they had one of those really fantastic meet-cutes like in a romantic comedy. Maybe they got stuck waiting out the rain in the doorway of some fantastic Manhattan brownstone somewhere and instantly fell in love... it could have happened.
The couple hit the campaign trail for The Donald this week, making a stop in North Carolina where Yunaska was born. While in Charlotte drumming up support for Trump, Lara spoke to Channel Nine about the recent allegations of sexual assault against her father-in-law, claiming they are part of a false narrative:
I think they will come to understand this is a man who will get the job done and take care of our families.
To date, 10 women have come forward to accuse presidential nominee Donald Trump of sexual misconduct; the latest alleged victim to come forward is Karena Virginia, who claims that Trump touched her breast without consent at the 1998 U.S. Open. Trump campaign spokesperson Jessica Ditto denied the allegations, calling Virginia's account another "fictional story" and asserting:
Voters are tired of these circus-like antics and reject these fictional stories and the clear efforts to benefit Hillary Clinton.
While both Eric Trump and his wife continue to campaign for the GOP nominee, they are taking time out of incredibly busy schedules to do so. Not only is Lara an executive producer at CBS, she works for The Eric Trump Foundation, an organization which raises money for terminally ill children. Eric Trump is also the president of the Trump Winery.
Here is hoping that, once this crazy campaign is finally (finally!) over, this Eric and Lara Trump will be able to go on a long, well-deserved vacation.