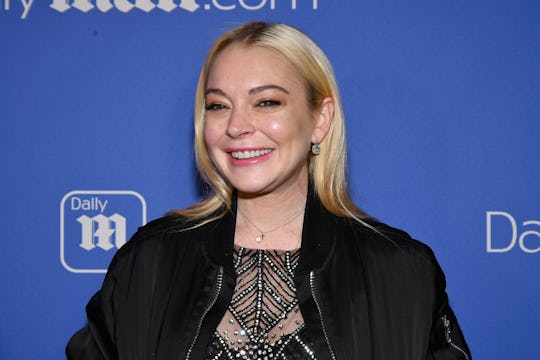 Slaven Vlasic/Getty Images Entertainment/Getty Images
Here's The Deal With Those Lindsay Lohan Kidnapping Allegations
Just when you thought Lindsay Lohan was busy living her best life in Greece (she owns a club in Mykonos called Lohan Beach House), her name appeared back in the news on Saturday for a really strange reason. Essentially, many people on Twitter are alleging that Lindsay Lohan attempted to kidnap children in Moscow, and the controversy hinges on a disturbing Instagram Live video filmed by the Mean Girls alum. And if you're incredibly confused right about now, here's a primer on what's going on with Lohan at the moment.
Lohan did not immediately respond to Romper's request for comment.
Lohan took to Instagram Live early Saturday morning to alert fans about a family in Moscow (she's currently visiting the city) supposedly in need of help. The family — parents with two sons — appear to be homeless, but Lohan automatically assumes they're Syrian refugees. "Hey everyone, I just want to show you a family that I met," she told the camera in a indiscernible accent, according to Complex. "A Syrian refugee family that I'm really worried about. They really need help."
It's important to note, however, that the group's circumstances or origin is not clear.
Either way, Lohan goes on to offer the parents and boys a place to stay for the night. "Do you want me to give you a hotel?... I want you to tell America what you need and I will get it for you," Lohan said, according to BuzzFeed News.
Although this offer seems kind on the surface, imagine how you'd feel if a stranger approached you with this proposal while also filming you for the world to see. Lohan's method here doesn't seem like the best approach, in my opinion.
"Do you want to stay in a hotel tonight? Do you want to watch movies?" Lohan went on to ask, according to E! News. "It'll be so cool, right? To watch a movie on a TV, right? Or on a computer?"
After Lohan then stipulated that the father couldn't come with them, telling the mother about her sons, according to Newsweek: "You should not have them on the floor. If someone is offering them a home and a bed, give it to them. This is not right."
But things took an especially troubling turn when Lohan encouraged one of the children to run.
"No, come run. Let's go it's too cold, this is wrong... let them go, wallahi," Lohan said, referencing Allah, according to BuzzFeed News.
Likely concerned about Lohan's intentions, the family gets up from their makeshift camp to avoid her questioning.
Unfortunately, Lohan makes the unwise decision to follow the group, saying at one point: "I won't leave until I take you," according to Page Six.
Oh, and did I mention she also yelled offensive rhetoric at the parents?
"This is not Arab, you're ruining Arab culture by doing this," she screamed, according to The Independent. "You're taking these children, they want to go. I'm with you, the whole world is seeing this right now. I will walk forever, I will stay with you don't worry."
Lohan then attempts to grab one of the boy's hands, a move that resulted in the mother hitting her in the face.
A crying Lohan told viewers after the incident, according to ET Canada: "I'm like in shock right now. They were trafficking, I was just like so scared. I literally can't, I don't think I can ever change what I want."
Alright, where do I even start? First off, never try to separate children from their parents. That's a big no-no.
Additionally, if you ever suspect child trafficking, call the National Human Trafficking Hotline or National Center for Missing & Exploited Children. It's not wise or safe to attempt to resolve a potential case of child trafficking on your own.
As for Lohan? I have an infinite number of questions. Where is the accent from? Why was she driving around Moscow late at night presumably looking for families in need? How did she ever think it was OK to separate children from their parents?
As it turns out, people on Twitter are just as confused as I am.
Gamer Liz Finnegan commented:
Lindsay Lohan followed a family, at night, tried to kidnap the 2 children, got decked by their mom, and then cried about how scared she was. All documented on a video SHE was livestreaming.
You can't make this sh*t up.
"Lindsay Lohan's levels of Caucasity are utterly abhorrent in that video," someone else argued. "Playing the role of the white saviour while simultaneously shaming the family, trying to steal the kids & speaking to them like she's just sauntered off the set of killing eve with that feckin accent."
Keep It co-host Ira Madison quipped: "Lindsay Lohan out here trying to kidnap children is this bitch Baba Yaga."
"Lindsay Lohan how'd you go from the club to trying to kidnap two kids on live?" one person joked.
Jeez, what a week.
On that note, here's to hoping Lohan never tries this kind of stunt again. Do it for Tina Fey, girl.