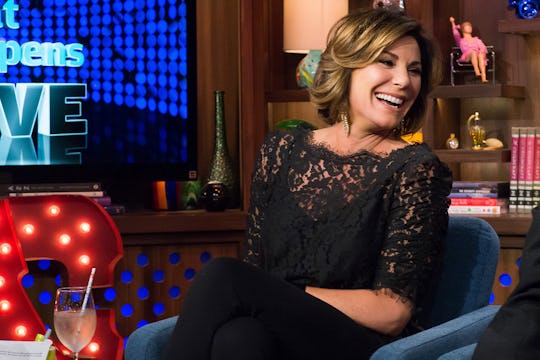 Charles Sykes/Bravo
Did Luann De Lesseps' Fiancé Date Sonja Morgan? The Roomies Both Know The Same Guy
The middle-aged dating pool on the Upper East Side is apparently very small, since there are quite a few guys the Real Housewives of New York have shared over the years (#NeverForget Harry Dubin). But the latest guy to make the rounds is engaged to Luann de Lesseps, allegedly had a brief fling with Ramona just before they got serious, and was apparently hooking up with Sonja at the same time as Luann. So did Luann's fiancé date Sonja?
Everyone seems to be in agreement that "date" is a strong word for what Sonja and Tom D'Agostino did. Luann isn't concerned about any of the other women in Tom's life, and Sonja doesn't seem to mind sharing, all of which is great. (Ramona was more peeved by the situation.) But Sonja does seem to be a little baffled by Luann's decision to marry the guy.
Here's the timeline. Luann and Tom were introduced by Dorinda during August of 2015. They got serious right before Thanksgiving, and six weeks later, Luann was talking about getting married. So their relationship moved really quickly to begin with. Sonja claims to have hooked up with Tom as late as a couple of weeks after Thanksgiving, so after he and Luann had already gotten into their intense lovefesting phase. Plus, Sonja claims she and Tom were essentially friends with benefits for their entire 10-year friendship, though they were never regularly going out. Luann insists that it was more of a one-time hookup, and believes the same of Tom's relationship with Ramona, even though Ramona claims they went out seven times.
Regardless of her fiancé's previous relationships with her friends, Luann stands firmly on the ground that what's important and what matters is their relationship moving forward.
"BL, Before Lu, I couldn't care what happened. I really can't," she said in an interview on Jenny McCarthy's SiriusXM show. "And you know what? I don't blame him for doing Sonja. I would do Sonja if I was a man. I totally get it. She's hot."
Luann is in no immediate danger of ever being uncool.