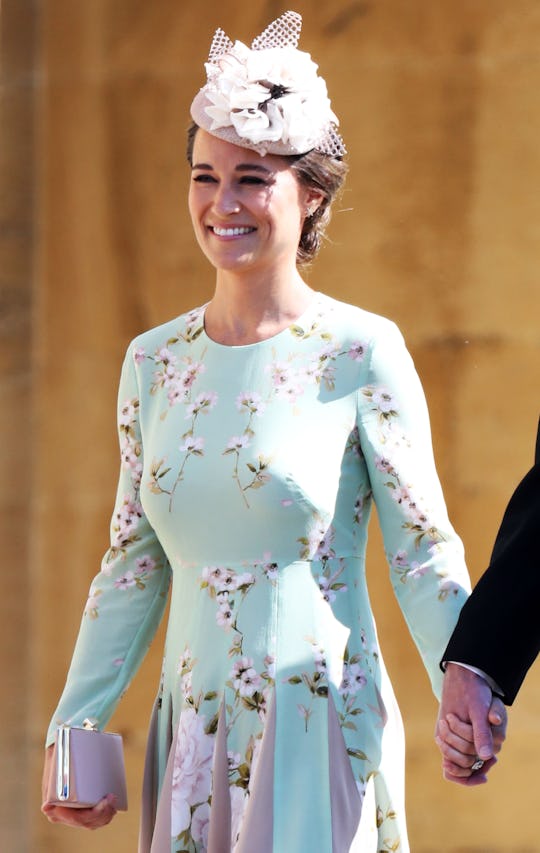 Chris Jackson/Getty Images Entertainment/Getty Images
Pippa Middleton & James Matthews Are Officially Parents To A Healthy Baby Boy
It's been a busy year for the royal family! Prince Louis was born in April, Prince Harry and Meghan Markle were married in May, Princess Eugenie got married last week, and then the Duke and Duchess of Sussex announced yesterday they have a baby on the way. And although Pippa Middleton may not technically be a member of the royal family, people definitely keep an eye out for news about her, given that she's Kate Middleton's sister. So fans will be thrilled to know that Pippa and her husband James Matthew are officially parents now! But, considering that her pregnancy was pretty low-key, many may be wondering: Did Pippa Middleton have a boy or a girl?
If you know that Middleton is big on fitness, then you know Middleton announcing her pregnancy in her fitness column Exercising During Pregnancy was pretty much on brand. Back in June, the column dropped, with Middleton confirming she had passed the 12-week mark in her pregnancy.
Considering Middleton's baby is the first cousin of Prince George, Prince Louis, and Princess Charlotte, fans were excited to know more about the new baby. Middleton and husband Matthews, however, kept fairly quiet throughout her pregnancy.
They never announced a formal due date, which meant fans did some guess work to determine Middleton was likely due in October. It seems fans were definitely right about that! But, the couple also never confirmed the baby's sex — until today. According to Hello! Magazine, a spokesperson for the couple said in a statement: "James and Pippa have had a baby boy. He was born Monday 15th October at 1.58pm, weighing 8lb and 9oz. Everyone is delighted and mother and baby are doing well."
Excitement surrounding her pregnancy was at an all-time high after Middleton and her husband made a surprise appearance at Princess Eugenie's wedding on Friday. Many people were worried that Middleton and Matthews would miss out on the ceremony. It seems, though, that their baby boy decided to hold off until after the festivities were done.
Only three days later, Middleton was spotted entering the Lindo Wing, as reported by AOL. That name might sound familiar and it should, because the Lindo Wing is the same place that hosted Kate Middleton for all three of her births.
After spotting Middleton and Matthews touring the facilities before, media outlets like the Daily Mail were quick to guess that Middleton would give birth there. It does make perfect sense that Middleton would go to the same place as her older sister. Plus, the facilities are reportedly excellent. According to the Daily Mail, "patients are each given a private room with their own en suite bathroom, as well as satellite TV offering 'major international channels'."
Not too long after Middleton's birth was announced, Kensington Palace said in a short statement, according to Hello! Magazine, "The Duke and Duchess of Cambridge are thrilled for Pippa and James."
Pippa Middleton and her sister Kate, are famously close. So, it's no surprise that the Duchess has already visited her new nephew, as Express reported.
For both the royals and their extended family, it seems that this is a year all about welcoming new additions. The birth of Middleton's son comes only weeks after her brother-in-law, Spencer Matthews, confirmed the arrival of his first child, Theodore, according to Hello! Magazine. And on Oct. 15, Meghan Markle and Prince Harry confirmed they were expecting their first child together.
These cousins will all probably be super close. Which means, in the future, the world can hopefully look forward to many adorable pictures of the new generation together!