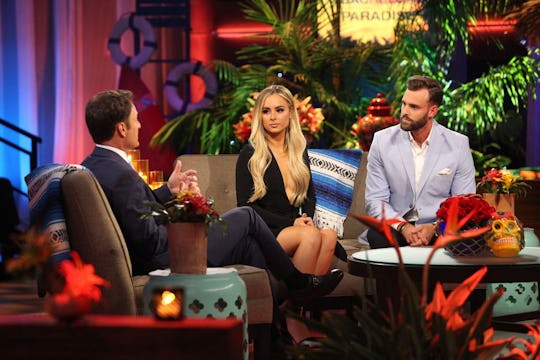 Paul Hebert/ABC
The Twins Make A Startling Accusation Against Robby On 'Paradise'
Robby Hayes tore a page from the Evan Bass Wooing Handbook for his stint on Bachelor in Paradise, myopically setting his sights on Amanda Stanton, in spite of repeated rejection. To Robby's face, Amanda claimed that she wanted to move slowly, since she rushed into an engagement last season. But in cutaway interviews, Amanda admitted she just wasn't that into Robby. Plus, he was friends with her ex-fiancé Josh Murray which made her uncomfortable. But a shocking allegation is lodged in the finale preview, prompting fans to ask: did Robby really cheat on Amanda after Bachelor in Paradise? (Romper has reached out to Robby for comment and has yet to hear back, but he does deny it in the teaser.)
A promo for next week's episode shows the entire cast in the studio for a post-show tell-all, and one of the issues brought up is a rumor of Robby's infidelity. Haley and Emily Ferguson, who self-admittedly only came to Paradise "to f*ck sh*t up," were of course the ones to bring up the allegation.
"He did cheat on Amanda," one of them says in the preview. "There was pictures coming out." When Chris Harrison asks Robby if that's true, he replies, "That's false." The other twin then demands, "What happened in Colorado, then?" Presumably, we'll get the answer when the episode airs.
Meanwhile, Robby and Amanda have been spotted out together since filming on suspiciously date-like activities, fueling speculation that they're still together. Frankly, it seems like Robby is deluding himself on the show with self-assurances that the couple is simply "taking it slow" and "building a foundation of friendship" for their romance, while Amanda just isn't feeling it.
But in July, they were seen wandering around West Hollywood hand in hand, wearing matching outfits. While in Los Angeles, they went out to dinner together at The Ivory, and then went to a Dodgers game with fellow Paradise alums Ashley I. and Tickle Monster. They also both attended Raven's birthday party in Malibu. I can't tell from the promo when exactly this Colorado incident took place, so it's possible that their relationship has ended or at least encountered trouble since July.
Instagram doesn't provide us with a ton of clues either, since Robby's is mostly model-esque shots of himself, and Amanda's mostly contains photos of herself with her daughters and a few Bachelor girlfriends. Whatever charges of infidelity arose between the couple, we'll have to wait until the cast reunion to learn the details.
Check out Romper's new video series, Romper's Doula Diaries: