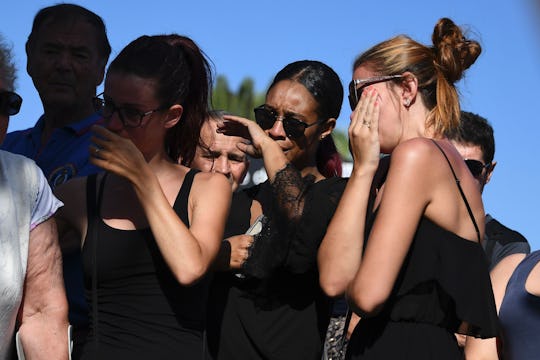 ANNE-CHRISTINE POUJOULAT/AFP/Getty Images
Did Security Officials Predict Terrorist Threats At Bastille Day Celebrations?
A Bastille Day celebration in Nice, France, turned tragic on Thursday evening when a driver drove a truck into crowds of people, injuring dozens, and killing at least 84. The deadly horrific attack left families of the victims, and many around the world, mourning the death of the many lives lost. And the attack in France follows the recent deadly attacks in Paris last November, which left hundreds of people injured and took the lives of 130 people. There have been too many tragic deadly attacks around the world in recent years, and many are grappling with these horrific tragedies that take the lives of innocent people. Did security officials predict terrorist threats at Bastille Day celebrations? It's certainly a complex and difficult topic of discussion.
According to The New York Times, the attacker was reportedly a 31-year-old Tunisian-French man. He was shot and killed by police officers, and authorities reportedly found weapons, including a grenade, in the truck he drove on the Promenade des Anglais during the Bastille Day celebrations, The Times reported. President Francois Hollande of France called the tragedy a terrorist act, though no organizations have claimed responsibility, The Atlantic reported.
In terms of predicting such tragedies, CNN terrorism analyst Paul Cruickshank, said they can't be predicted.
"The problem is, you can't get inside the heads of these terrorists to know precisely where they're going to be targeting people next," he said. "You can't predict unless you're inside the planning of those attacks."
In recent years, the world has seen terrorist attacks in a number of countries including, Nigeria, France, Syria, United States, Afghanistan, Belgium, and Turkey, to name a few. Unfortunately, particularly in the western world, conversation surrounding terrorism are usually spewed with anti-muslim, and anti-immigration or migration rhetoric.
Mujtaba Rahman, of Eurasia Group, a political risk and consulting company, shared insight with The New York Times about the growing anti-immigration rhetoric following the attacks in Brussels in March.
"There is a growing perception among European public opinion that E.U. leaders are not in control of the Continent's terrorist threat," he said. "Combined, these attacks will increase xenophobic and anti-immigration sentiment across the E.U., which has already been rising in light of the E.U.'s ongoing refugee crisis."
There are varying views in the public opinion on how "terrorism" is defined. But domestic terror in the United States for example – violence against a civilian population or infrastructure often by citizens of the nation – poses a real threat and dispels the overwhelming fear mongering anti-Muslim-extremists-threats rhetoric.
Even still, presumptive Republican presidential nominee Donald Trump, who continues to stand by his xenophobic, and anti-Muslim rhetoric, has said in the past that he can somehow predict terrorism.
"The other thing I predicted is terrorism," Trump said in front of a crowd back in November according to NBC News.
Fran Townsend, former homeland security adviser to former President George W. Bush, told CBS This Morning on Friday following the attacks in Nice, that in relation to ISIS-related attacks specifically, its decentralized nature makes it difficult to predict.
"Traditionally, the old Al Qaeda core was a hierarchical group and so they got approval for plans," Townsend said. "ISIS now has proven themselves to be this decentralized movement where individuals are self-radicalized and self-initiated in these kinds of attacks, which makes them much more difficult to predict and prevent."
Again, no organizations yet to claim responsibility for the attacks in Nice.