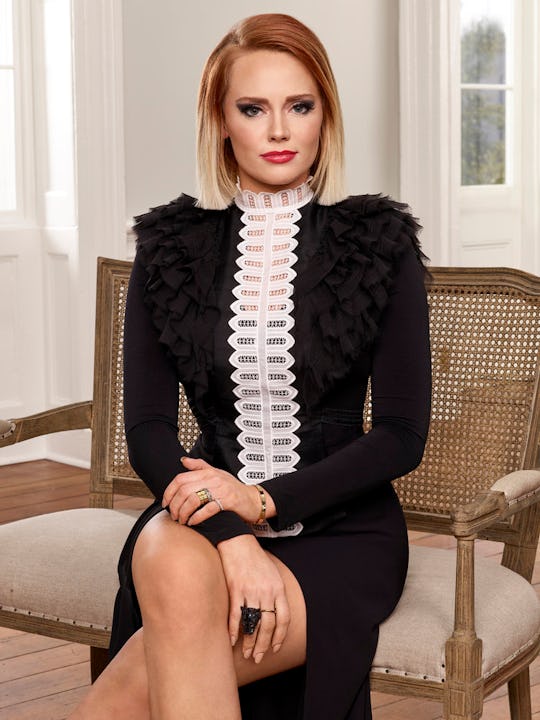 Rodolfo Martinez/Bravo
What Is Going On Between Shep & Kathryn On 'Southern Charm'?
Now that Southern Charm fans know that Kathryn Dennis and Shep Rose have hooked up a handful of times in the past, it makes you wonder about how serious things actually got between the two stars. It doesn't seem likely that they were ever in a serious relationship, or it would have been showcased on the show, but did Shep and Kathryn ever date on Southern Charm?
If Kathryn and Shep were ever an official thing, wouldn't Thomas Ravenel, Kathryn's ex and the father of her two children, have brought it up at least once in the course of their tumultuous relationship? Since neither Shep nor Kathryn have said anything about officially dating or seeing each other on a more serious level, I'm inclined to believe that their previous hookups were just that and nothing more.
But according to both Shep and Kathryn on Southern Charm in a recent episode, there could potentially be a future for them. If their bowling date was any indication of the chemistry they have outside of the show as well as on it, there definitely seem to be some feelings there. And both stars admitted to toying with the idea of a relationship between them on more than one occasion.
During the would-be couple's bowling excursion, there was some heavy flirtation between them. And during their respective interviews, they revealed that there might be something between them now, despite not giving it much of a chance before. "After Kensie was born, Shep and I kind of like hooked up again," Kathryn admitted in one of her talking head interviews. "Actually, since then, a few times. But it never went anywhere. I still play with the idea because I don't know… we have good sex, whatever. And he's cute and fun."
Then Shep confessed he might have some interest in pursuing Kathryn more seriously. "I sometimes think back to Kathryn and I's time together. I think maybe I cut the cord too quickly on it, honestly," he admitted, all smiles. "We had a lot of fun together."
From what they said of their pasts, it seems clear that their relationship was strictly hookups rather than romantic. However, they do seem to be interested in each other right now, so there may be a chance that their current flirtations could turn into something more.
Shep's Southern Charm castmate, Cameran Eubanks, on the other hand, thinks that the RelationShep star might be better off on his own. "I've really given up on Shep. I've thrown in the towel," she told The Daily Dish, when describing trying to help Shep find love on his reality series last year. "Shep is not somebody that you can help, and I've learned that. And I love him to death. I want him to be happy, and I think maybe he's happiest being single."
Cameran also said that instead of Shep entering into a new relationship now, he should look inward first. "I think that Shep at this point in his life needs to go on a retreat," she said. "I think he needs to leave Charleston — go on a detox retreat where for like two weeks he doesn't drink, he doesn't party, he doesn't go to bars," she continued. "He just meditates and tries to find what it is that he is really seeking and wanting in life."
While Shep doesn't seem like he's gone on any soul searching retreats recently, he could be at a more mature and stable place in his life to pick back up with Kathryn in some capacity. Whether this would be a good thing for both of them or a bad thing, however, is anyone's guess.