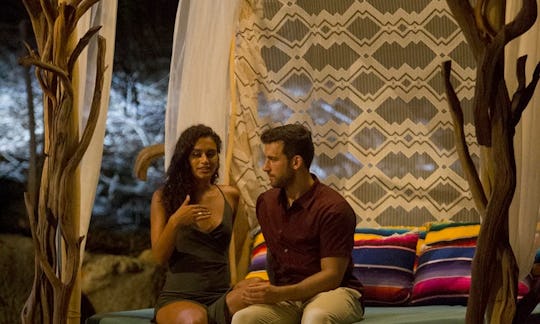 Paul Hebert/ABC
Taylor & Derek Took A Big Step On 'Bachelor In Paradise'
With less filming time and what seemed like more new cast members than ever, there's no denying that Season 4 of Bachelor in Paradise was a bit different and came and went quickly, which meant that instead of proposals at the end, Chris Harrison offered the contestants the chance to experience fantasy suite dates. And since they were the most solid couple all season, fans are going to be asking, did Taylor and Derek have sex on Bachelor in Paradise? The fantasy suite date is a long standing tradition in Bachelor Nation, but when it comes down to it, it's really no one's business but the people involved.
In Taylor and Derek's case, there's a good chance that they took full advantage of the fantasy suite and the whole point of being together away from the cameras. But more than that, using the fantasy suite is the first chance some of these couples have at being alone period, with zero cameras and no mic packs of any kind. They can spend the night getting to know each other better, or yes, maybe also have sex while they're at it. Regardless of whether or not Derek and Taylor slept together on Bachelor in Paradise during their fantasy suite date, they were no doubt brought closer together by the experience alone.
Before Derek and Taylor's fantasy suite date on the Bachelor in Paradise season finale, they had what was probably one of the most honest and open conversations about what the fantasy suite entails. And after they both agreed that having sex means taking their relationship to the next level, they also seemed in agreement that they were ready for that next big step as a couple.
After their talk about having sex on their fantasy suite date, Derek quietly closed the hotel room door on the cameras and as far as viewers are concerned, that's where their love story truly began.
Since Derek and Taylor are most likely the couple who gets engaged on the Bachelor in Paradise after show, whatever happened on their fantasy suite date was obviously for the good of their relationship and will undoubtedly only bring them closer as time goes on. And honestly, I'm happy for them. Given all the drama that went down throughout the season, it would be nice to see a fairytale ending come out of all of this. Let's hope these lovebirds are the real deal.