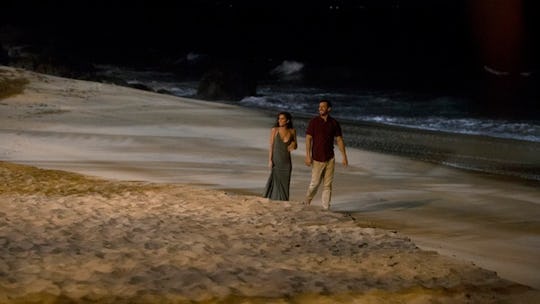 Paul Hebert/ABC
Derek & Taylor Are 'Bachelor In Paradise' #RelationshipGoals
Whether or not you believe that contestants can find and keep legitimate love on shows in the Bachelor franchise, it does happen. But for every successful couple still going strong, there are admittedly a few who didn't quite make it. So since they are likely the newest engaged couple in Bachelor Nation, are Derek and Taylor still engaged after Bachelor in Paradise? The proposal, which has been reported to have happened at the taping of the Bachelor in Paradise after show back in late August, is still very new to both of them. In fact, if they aren't engaged anymore, they'd easily have the fastest engagement and breakup turnaround out of any other past engaged contestants.
Of the three couples who got engaged at the end of Season 3, only one, Evan Bass and Carly Waddell, are still together, but the other two didn't fare so well once the cameras stopped rolling. Lace Morris and Grant Kemp called off their engagement in November 2016, while Amanda Stanton and Josh Murray followed in their tracks just a month later. During Season 2, however, two of the relationships that ended the season were even more short-lived, even if they didn't all end the season with a proposal.
While Jade Roper and Tanner Tolbert got married in January 2016 and even welcomed a baby in August 2017, the other two couples from Season 2 of Bachelor in Paradise didn't last beyond October 2015, which was less than two months after the season ended. In fact, contestants Cassandra Ferguson and Justin Reich admitted on After Paradise that year that they'd already broken up, while Samantha Steffen and Nick Petersen announced their split in October.
For Derek and Taylor, though, it's much too soon for a breakup between the happy couple. People reported that during the Aug. 30 taping of Bachelor in Paradise after show, Derek proposed to Taylor. With the requisite Neil Lane engagement ring that has a price tag in the five-figure area, their engagement has all the makings of your typical Bachelor Nation relationship, and even though neither have been able to post about their engagement on social media, a breakup less than a month after the proposal would be quick, even by Bachelor in Paradise standards.
As recently as Aug. 20, 10 days before the proposal shown in the previews for the Bachelor in Paradise Season 4 finale, Taylor posted a photo on Instagram of herself, Derek, and a few other Bachelor Nation stars with Carly and Evan, presumably at a baby shower or gender reveal celebration. And although it wasn't a picture of just Taylor and Derek together after filming, it does add to the idea that once the season ended, they were able to make it work together.
Fellow Bachelor Nation star and Bachelor in Paradise Season 4 contestant Matt Munson spoke to Life & Style about Derek and Taylor and while even he couldn't confirm the engagement rumors, he did speak highly of them as a couple. "All I can say is if anyone deserves that, if anybody deserves to see their way through to the end, and come out of the whole thing with a ring, it's Taylor and Derek," Matt told the outlet. "There's no better guy than Derek to put that ring on her finger. He's an awesome guy. The two of them, it seems so right, and I think it was natural."
He went on to say that because of the way Derek and Taylor's relationship popped up, it proves that finding love in Paradise can happen for real. "I've talked to them since, and Derek is like, 'Yeah, she got me.' I don't think either of them saw it coming. I know that neither of them saw it coming," Matt said. "So that's the best part, and I know that even Taylor was a little uncertain about if she should even be there, then for her to go ahead and meet a great guy like Derek, it proves that the thing can work for some people."
The real test to whether or not Derek and Taylor are still together after Bachelor in Paradise is going to be how they interact on the Bachelor in Paradise after show Monday night and how the proposal itself goes. But since it was all taped so recently, I think that assuming Taylor and Derek are still solid is a safe bet to take.
Check out Romper's new video series, Romper's Doula Diaries: