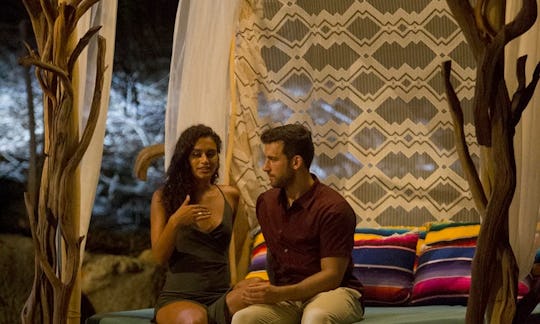 Paul Hebert/ABC
Taylor & Derek Are Going To Be Making Some Big Changes After 'Paradise'
One of the things I'll never understand about the shows in the Bachelor franchise is the fact that these people willingly fall in love with other contestants who are sometimes all the way on the other side of the country. Like with Derek and Taylor, who are rumored to be engaged now that the season is coming to an end, so that begs the question: where do Taylor and Derek live after Bachelor in Paradise?
According to E! News, Derek proposed to Taylor during the taping of the Bachelor in Paradise aftershow and although the couple hasn't come out to confirm the engagement, I think it's safe to say that they were the pair most likely to leave Paradise as a solid couple regardless. Since they don't already live in the same state, though, someone is going to have to make a pretty big move in order to keep their relationship together.
Not only do they have to hope their relationship handles life away from the cameras, but they also have to decide who moves where, which can't be easy. But if Vanessa from Nick's season can move to a whole new country for him, then others in Bachelor Nation can do it, right? Never mind that Nick and Vanessa called it quits — it still stands that contestants seem to understand what they might be giving up when they agree to fall in love with strangers from a totally different state, region, or even country.
When Derek was on JoJo's season of The Bachelorette, fans found out that he's originally from Iowa. His LinkedIn profile lists him still working at Bank United in New York City, but his Instagram shows him kind of all over the place. But where it doesn't show him is in Seattle, Washington where it looks like Taylor lives at the moment. So either way, Derek or Taylor are going to have to make a pretty big move. But, like I said, that's kind of par for the course where Bachelor in Paradise is concerned.
In the promo for the Season 4 Bachelor in Paradise finale, there are plenty of couples that seem like they're unsure of their relationships. You have Raven, who seems like she doesn't know where she wants things with Adam to go, and then Dominique, who doesn't know where Diggy's head is at. And even though Derek tells Taylor he's falling in love with her, she later tells the camera that's she doesn't know if she's on that same level just yet. Even so, the aftershow looks like it's definitely going to have the surprise proposal from Derek, which is like a shining beacon of light after a legitimately shocking and dramatic season.
And now they're going to have some big decisions to make as a couple. Since neither Derek or Taylor have confirmed their engagement after Bachelor in Paradise, it's not clear yet as to who will be relocating where, but if Derek moves to Taylor's state, he'll definitely be in for a change, and if she makes the move to either Iowa or New York, it will be a change for her as well.
But since they apparently got engaged on the Bachelor in Paradise finale, they both no doubt know that they'll have to make some important decisions regarding their future, and soon.
Check out Romper's new video series, Romper's Doula Diaries: