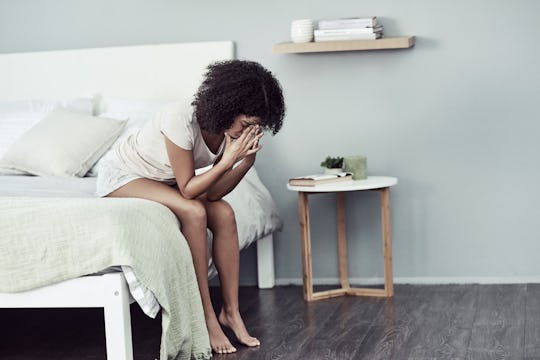 LaylaBird/E+/Getty Images
The 5 Different Types Of Pregnancy Loss & What They Mean
Losing a pregnancy can be absolutely devastating for a parent, no matter the circumstances. While miscarriage is one of the more common terms used, there are actually several types of pregnancy loss that can occur. In some cases, a medical professional is able to pinpoint the specific cause, but others happen seemingly without reason. Regardless the reason, all have the potential to leave a lasting effect on parents.
When you hear 'pregnancy loss,' you likely already know what it means without needing further explanation. However, it's technically an umbrella term that represents the various clinically specific types of pregnancy loss. Kathleen Winston, Ph.D., R.N., Dean of the School of Nursing at the University of Phoenix, tells Romper via email, "Pregnancy loss is the death of an unborn baby (fetus) at any time during pregnancy," regardless of weeks or trimesters.
In a call with Romper, OB-GYN, Annelise S. Swigert, M.D., says the word 'miscarriage' is similar to 'pregnancy loss' and is the most common term used, but it's not always technically accurate. Timing of the loss and the biological reason behind it are some of the factors that are considered when determining the specific type of pregnancy loss. Here are some of the different terms and types of loss that can happen during pregnancy.