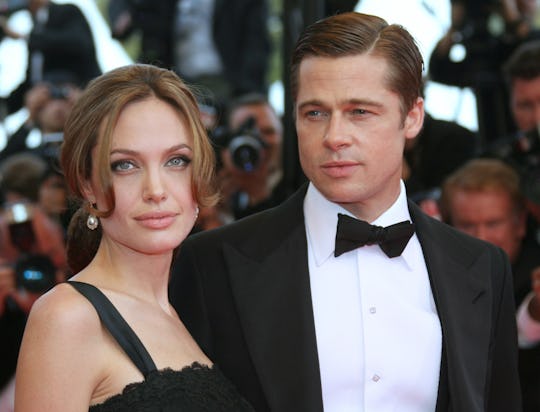 VALERY HACHE/AFP/Getty Images
Do Angelina Jolie & Brad Pitt Have A Prenup? They Have A Lot To Protect
When Brad Pitt and Angelina Jolie became a couple in 2004, while Pitt was still married to Jennifer Aniston, what followed was a world of "Team Jolie" and "Team Aniston", but by the time they got married in 2014, the animosity was gone and we'd accepted "Brangelina" as a couple to look to for relationship goals. Unfortunately, though, after being married for two years, Jolie has filed for divorce, so do Angelina Jolie and Brad Pitt have a prenup? For a couple with several children and millions of dollars between the two of them, you would hope so. (Romper reached out to representation for both actors, but did not hear back at the time of publication.)
The couple allegedly drew up a prenuptial agreement stipulating that, in the case of the couple divorcing because of Pitt cheating on Jolie, she would be awarded sole custody of their children, according to RadarOnline. The claim is not supported by any comment from representation, although Romper reached out regarding the report without hearing back at the time of publication, so it should be taken with a grain of salt. The amount of which, if you're new, is up to six these days.
Apparently, Jolie has cited the requisite "irreconcilable differences", as opposed to infidelity, but is still asking for physical custody of their children, with the addition that Pitt is granted visits, according to TMZ. Still, children aside, the couple has a lot to lose if they don't have a prenup in place. As in, the couple has a combined net worth of almost $200 million, and Jolie is reportedly not asking for spousal support, but if Jolie and Pitt have no prenup, things could still get messy from both a parental and a financial standpoint.
Update: While both parties will certainly be private during this time, Pitt did release a statement to People and said the following:
This decision was made for the health of the family. She will not be commenting, and asks that the family be given its privacy at this time.
Jolie's attorney, Robert Offer, offered this statement to Reuters:
"This decision was made for the health of the family. She will not be commenting, and asks that the family be given its privacy at this time."
Motherhood for Jolie began in 2002, when she adopted then two-year-old Maddox on her own, though she was married to Billy Bob Thornton at the time. That was followed by the adoption of Zahara in 2005. Then, in 2006 came the birth of Shiloh, who was Pitt and Jolie's first biological child. In 2007, they adopted Pax, and then their twins, Vivienne and Knox, were born in 2008. If the rumors about Pitt and Jolie's alleged prenup giving primary custody of all six children to Jolie is true, then there is likely a lot not yet being said about the clash of parenting their children that was allegedly a large part of the reason for Jolie filing for divorce.
According to TMZ, the reason behind Jolie starting divorce proceedings was because of the way Pitt was parenting their children, as opposed to any rumors about adultery in their marriage. Pitt's representation did not respond at the time of publication to address these claims.
The couple met while filming the movie Mr. & Mrs. Smith in 2004, when Pitt was still married to Aniston, and while rumors swirled around them, the public retained a vested interest in the would-be couple until they finally made their relationship public, more or less, when in April of 2004, there were sightings of Jolie and Pitt out with her son Maddox.
After Aniston filed for divorce the following January, "Brangelina" was in full swing and the couple maintained their strength as a Hollywood power couple for 10 years until they were married in 2014, and two more after that, until the revelation that Jolie had filed for divorce from her former co-star. The question of a prenup between Jolie and Pitt has come up on multiple occasions, but aside from the rumors of there being one in place, a prenup has never been officially confirmed by the couple.