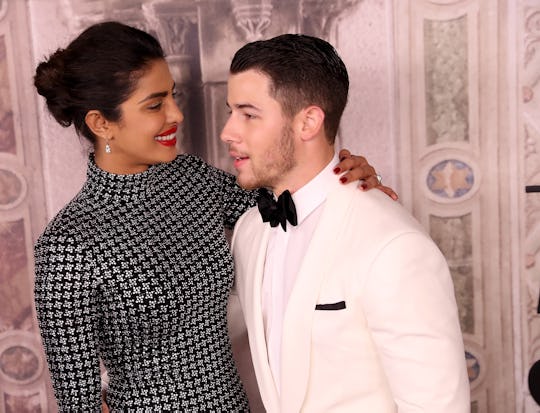 Rob Kim/Getty Images Entertainment/Getty Images
Do Nick Jonas & Priyanka Chopra Want Kids? The Newlyweds Could Soon Be Parents
In case you missed the big news, one high-profile celebrity couple officially tied the knot over the weekend. That's right — after months of anticipation, Nick Jonas and Priyanka Chopra are officially a married couple! Although there aren't too many details yet about the ceremony that was held on Saturday, Dec. 1 in India, fans likely all have the same next question on their minds: Do Nick Jonas and Priyanka Chopra want kids? The newlyweds have been open about their desire for children.
As People reported, the couple wed Saturday during a Christian wedding ceremony — officiated by Jonas' father — at the Umaid Bhawan Palace in Jodhpur, Rajasthan. Chopra and Jonas will also have a Hindu ceremony on Sunday, according to the publication. "It is super important to Priyanka to have an Indian ceremony that honors her heritage and culture, just as it's important to also have a Western ceremony that honors Nick's Christian upbringing," a source told People. "They are doing both."
Although the wedding festivities aren't even over at this point, those who are dying to know if kids are in Jonas and Chopra's future will be happy to know that both husband and wife have previously expressed a desire to be parents. In October an insider opened up about the couple's ongoing conversation about starting a family together. "Nick and Priyanka can't wait to get married," an insider told Us Weekly. "They have amazing chemistry and can't wait to have kids ... "They are going to wait till after the wedding to start trying. But it's definitely on the agenda."
If you're a little skeptical about these "inside sources," Jonas himself shared with Cosmopolitan back in August that he would like to be a father one day. "[Having a family of my own] is the goal," the 25-year-old told the magazine. "It's definitely something that I hope will happen." For the record, it looks like the singer has gotten in plenty of practice with his nieces — Kevin Jonas's daughters — Valentina and Alena. "The best part about being an uncle is that it's like training wheels," Jonas told Cosmopolitan. "You get to spend time with these young people and have some responsibility, which is nice." He added:
I am not sure of the exact timeline. But, I need to give my nieces cousins at some point.
As for Chopra? It looks like she's all-in as well, when it comes to the prospect of children. "Marriage and kids are a big goal for me," she said in February, according to India Today. "I'm a big believer in the institution of marriage and in the family, and in kids, I want to have a lot of them, if God allows."
So yeah, I think it's safe to say that Priyanka Chopra and Nick Jonas will definitely be trying to have children at some point in the near future. And judging by their comments on the matter, they could wind up with a pretty large brood. Who knows? Maybe in 20 years or so, there will be a whole new generation of the Jonas brothers rocking out on stage!
This first-time mom wants to have a home birth, but is she ready? Watch how a doula supports a military mom who's determined to have a home birth in Episode One of Romper's Doula Diaries, Season Two, below. Visit Bustle Digital Group's YouTube page for the next three episodes, launching every Monday starting November 26.