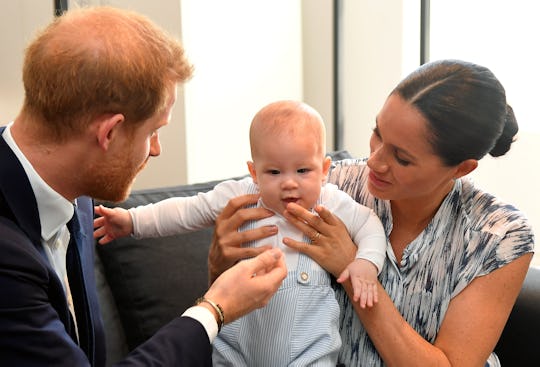 Pool/Getty Images Entertainment/Getty Images
Here's Why I Think Prince Harry & Meghan Markle May Want To Make Archie A Big Brother
Prince Harry loves kids. This is one of those things everyone knows about him. It's as much a part of the Duke of Sussex as his red hair and his philanthropy. And it seems he found an excellent partner in Meghan Markle, because she is just as enchanted by their son, Archie, as her husband. But do Prince Harry and Meghan Markle want more kids now that they've welcomed little Archie? It looks like becoming parents has this couple thinking about expanding their brood, and it might even be sooner than people expect.
On Wednesday, the Duke and Duchess of Sussex surprised some of their neighbors in Windsor by dropping into the Broom Farm Community Center, where military family members with relatives who have been deployed get together every week to support each other. When Prince Harry and Markle popped by to meet the families living so close to their Frogmore Cottage home, they quickly zeroed in on all of the children who were there.
Prince Harry got down on the ground to play with the little ones while Markle hung out with some of the moms to swap parenting stories. Their 6-month-old son Archie was never far from their minds, though, particularly when Prince Harry (who was in the military himself for years) started to think about what it would be like to have to leave his son. "I can't imagine what it's like to miss so much, as they change so quickly," he said, according to ITV.
It seems little Archie has a few changes of his own, with Markle telling one little girl that her baby now has two teeth. The Duchess of Sussex also reportedly discussed milestones with another mom who had a child around the same age, saying that her little boy had started to crawl, according to Town & Country.
Now that Archie has gotten so big, are the couple thinking of perhaps having another baby? Certainly fellow parents at the event couldn't help noticing that Prince Harry seemed particularly interested in how life changed with a second child, as military wife Susie Stringfellow told ITV. In fact, she told the media outlet that Prince Harry was talking to her and another mother about how they dealt with having more than one child, saying: "Harry was really quite interested in how things were with second children, as well because we both have older children. We were trying to encourage him to have a second baby."
This isn't the first time the idea of having a second child has come up with Prince Harry. He sat down for an interview with environmental activist Jane Goodall for British Vogue for the September issue his wife guest-edited and admitted that he would like one more child, although that's apparently the "maximum."
While neither Markle nor Prince Harry have specifically confirmed that they want another baby right away, royal correspondent Katie Nicholl told Entertainment Tonight in July that it wouldn't be surprising to see a pregnancy announcement in 2020. She told the news outlet that the couple "absolutely want siblings for Archie, so possibly we will have a second pregnancy announcement for Meghan and Harry sometime next year."
For now, though, it seems they are pretty much focused on their baby boy and enjoying parenthood.