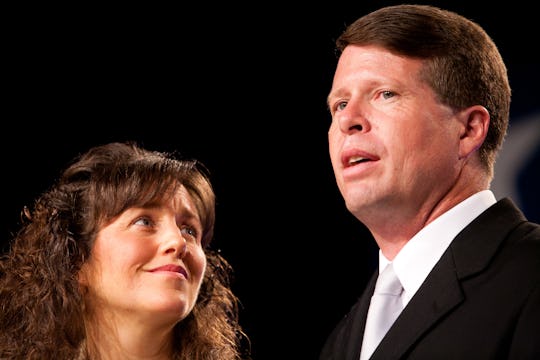 Brendan Hoffman/Getty Images Entertainment/Getty Images
Do The Duggars Celebrate Thanksgiving? They're Going To Need A Bigger Table
The Duggars, that famous reality family previously of TLC's 19 Kids & Counting and now Counting On, are well known for being Christian. Very, very Christian, although the family has never fully come out to say which type of Christian teaching they follow specifically. Whichever church that might be, it most certainly must teach traditional values. While fans know the family are traditional when it comes to the way they dress and the way they raise their children, how do they feel about other, non-religious holidays? Do the Duggars celebrate Thanksgiving?
The ever-growing family most certainly does celebrate Thanksgiving, and fully enjoy it, according to a blog post Michelle Duggar wrote in 2011 for TLC. In fact, not only do the Duggars try to get everyone together for the big holiday in November, Michelle wrote that they tend to invite extended family and friends over for the day as well.
When we gather for Thanksgiving Day we have extended family over as well as friends who aren't with their family. Sometimes they're going to college or high school here in Arkansas - for whatever reason, they're not near their families. We'll invite them over as well so that they have a family to gather with, and then different family members will bring their food specialty, like my sister's peanut butter and chocolate buckeyes (we're originally from Ohio, where the dessert originated from -- we all look forward to Aunt Carol's buckeyes!).
Take a moment to think about what that Thanksgiving must look like, how much food would need to be purchased, prepared, and then consumed, as you watch this video of Jana Duggar trying to bake 15 pumpkin pies.
As Michelle pointed out in her blog, family members do bring extra food along with them, but honestly just the thought of trying to bake 15 pies makes me want to scream in frustration. But hey; the whole family seems to love it, and now the family has gotten even bigger. The third generation of Duggars continues to expand, now that Josh, Jessa, and Jill have kids of their own. Oldest son Josh and his wife Anna have five children (Mackynzie, Michael, Marcus, Meredith, and bab Mason who was born earlier this year). Jill and her husband, Derick Dillard, have two sons (Israel and Samuel), much like sister Jessa and her husband, Ben Seewald (Spurgeon and Henry). Joy-Anna Duggar is also expecting her first child with husband, Austin Forsyth, next year. So that should be one busy Thanksgiving table.
The newest additions to the Duggar family should make one of the Duggar Thanksgiving traditions of going around the table to share something each person is grateful for a pretty arduous process. Michelle wrote of the family's tradition on her Thanksgiving blog:
Our meal is usually at 1 p.m. so that way we can spend the whole afternoon just playing games and fellowshipping as a family and getting a chance to give thanks. Everyone gets a turn to say thanks, usually starting with the youngest and going to the oldest. Each person in the family gets to say one thing that they are thankful for, and we usually try not to repeat what someone else has already said, but it gets really hard if you're the older one in a family of 19. For our younger ones it's pretty sweet. Sometimes we hear things like, "I'm just so grateful for oatmeal."
It's a good thing the whole Duggar family, including the kids, seem to embrace sharing Thanksgiving together, because there is one holiday the kids just missed out on. The Duggars do not celebrate Halloween, according to E! News, because the holiday represents a "demonic realm God wants us to stay away from."
I guess that gives them more time for pie baking, right?
Check out Romper's new video series, Romper's Doula Diaries:
Check out the entire Romper's Doula Diaries series and other videos on Facebook and the Bustle app across Apple TV, Roku, and Amazon Fire TV.