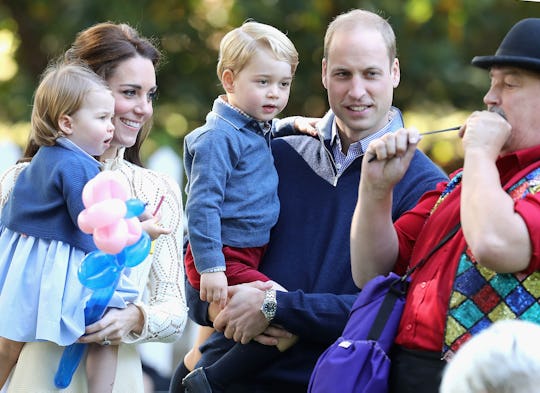 Chris Jackson/Getty Images Entertainment/Getty Images
Don't Expect To See Prince George & Princess Charlotte Celebrating Halloween
The turn of fall can only mean one thing in the States — Halloween is only weeks away, and kids everywhere are figuring out their costumes for a big night of trick-or-treating and candy. But what about across the pond? Do the royals celebrate Halloween like we do? The answer is spookily simple: Not officially.
You see, Queen Elizabeth II is famously known for her dislike of all things Halloween-ish, probably stemming from family traditions put in place by Queen Victoria that called for strict decorum and made Halloween an inappropriate holiday for the manners-minded to celebrate, according to Cheat Sheet. In fact, according to OK! Magazine, the Queen will never acknowledge the Halloween holiday, but that doesn't mean that a certain Duke and Duchess of Cambridge, who are known for parenting in a more modern style, can't indulge in a little private Halloween fun inside the comfort of Kensington Palace.
"The royals certainly don't publicly celebrate Halloween, however, Kate's mother, Carole Middleton and sister, Pippa Middleton might well put their party planning skills to good use," OK! Magazine's royal protocol expert, Christina Reeves, explained in 2017. "It's likely [William and Kate would] throw a private party for George and Charlotte behind closed doors."
And now that he's come along, don't forget little Prince Louis...
Of course, as the royal family has grown and added in-laws (like the Middletons — whose party-planning business, Party Pieces, is big on Halloween — including a special Halloween "shop" on its website) and Americans (like Meghan Markle, the Duchess of Sussex), you really never know if such aversions like the one Britain's monarch apparently has to October's spooktacular night will remain the family's golden rule forever.
Depending on who the next monarch is (Prince Charles or Prince William), many more modernizations may occur, according to The Daily Express, which added that the Queen has already allowed the family to evolve with the times to a surprising degree. For example, the monarch allowed a "commoner" (Middleton) to marry an heir to the throne and she approved Prince Harry's choice of a foreigner as his future duchess.
When it comes to Halloween, though, while October's ghoulish holiday originated in the British Isles, it became unpopular in much of the English-speaking world during the Victorian Era as a rejection of such fantasy elements as dress-up, according to Vox. Except in America, that is, where the annual holiday only thrived. That's why countries such as Australia now have movements to "ignore" Halloween as imported "American cultural imperialism," according to Vox.
Of course, the royal family may have their reasons to avoid dress-up. For instance, long before he grew up, got married and became a working royal ambassador, a young Prince Harry reportedly once showed up at a London costume party in a Nazi uniform, causing the palace to be roundly criticized, as The New York Times reported in 2005. In his apology, Prince Harry called it "a poor choice of costume," as CNN reported at the time.
Still, times, and people, change. And, as Harper's Bazaar explained, Prince William and Middleton do just about everything they can to make their kids' lives seem normal, from driving or walking the kids to school themselves to taking the young royals out for back-to-school shopping.
So I just bet (well, kind of hope, TBH) that, somewhere deep inside Kensington Palace on Oct. 31, there will be an adorable dinosaur or a little ballerina. Just don't count on getting to see any pictures...
This article was originally published on