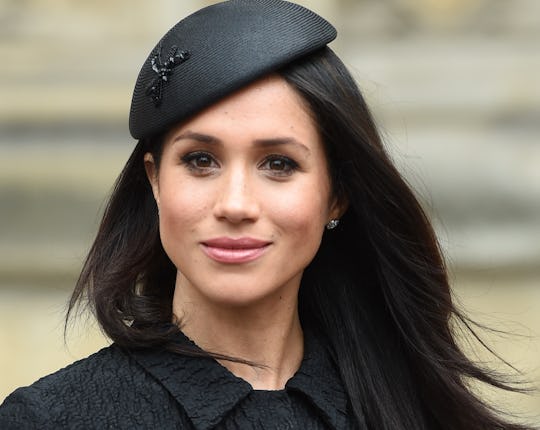 WPA Pool/Getty Images Entertainment/Getty Images
Here's How Royals Handle The Bridal Shower Tradition
Before a wedding, traditionally, there are several fun events most folks get to enjoy leading up to the big day — but what about the royals? Do the royals have bridal showers, or even bachelor parties? Is it considered proper to do these things, or would the Queen disapprove? Though a royal shower or bachelor party may not be what Americans or "commoners" would typically throw, turns out royals do have them.
In fact, Meghan Markle had her private bridal shower back in March at the Soho Farmhouse in Oxforshire, and it was a small party with a spa theme. According to E!, Markle's friends Lindsay Jill Roth and Heather Dorak were in attendance for the event. And the farmhouse is just beautiful and rustic, with "100 acres of Oxfordshire countryside with 40 cabins, a four-bedroom cottage and a seven-bedroom farmhouse," according to the Soho Farmhouse's website. There's also a main barn and mill room for dining and drinking, outdoor and indoor heated pools, a spa with steam and saunas, a gym, a cinema, tennis courts, and horse stables, the website noted. Some cool history about the location for you: it was founded in 1995 "as a home for people working in creative fields." As someone in a creative field, I personally wouldn't mind living there for a bit. It also makes sense why Markle loves it there so much, as it's a "global private members' club for those in the film, media and creative industries."
And in April 2011, Kate Middleton had somewhat of a bridal shower at the Hannibal Nutrition Center, and her Majesty, the Duchess of Cornwall, her mom, cousins, and friends all attended. "This theme was a volunteer appreciation banquet for the volunteers that work at the Thrift Store at Douglass Community Services in Hannibal," the Hannibal Courier-Post reported. Not sure if I'd want to share my bridal shower, but that's why Kate is a classy duchess and I'm not, I suppose.
And speaking of classy, there were no strip clubs, Vegas trips, or penis-shaped anything for Markle's bachelorette party. There weren't even tequila shots. In fact, from what I could find, the bridal shower mentioned above was also considered Markle's bachelorette, or "hen" weekend. However, Prince Harry did have his own "stag" party, and it was speculated that he had it in either Mexico, Verbier, or in a private house with just male friends, according to Express. This couple is really good at keeping their privacy, and what can I say? They deserve it.
While the general public everywhere wasn't privy to a lot of information about the bridal shower or the bachelor and bachelorette parties, at least we can watch the couple get hitched with their adorable bridal party on May 19, right? PopSugar reported that for the first time in select theaters across the United States, you can see the royal wedding on the big screen. Check your local theater's website or search your zip code on the Fathom Events website. They'll start streaming the nuptials at 10:30 a.m., and for three commercial-free hours, you can pretend you're actually there.
I'm sure there are also a ton of royal wedding viewing parties happening in and around your city, so check out where to get your ticket as soon as possible — it's only two days away! And if you're not down to attend any viewing parties, create your own in the privacy of your own home. Unfortunately, to watch it live, you'll have to be up by 4 a.m., but there will be a live broadcast of the ceremony on NBC, ABC, PBS, CBS, FOX, and BBC America. Check your local listings.