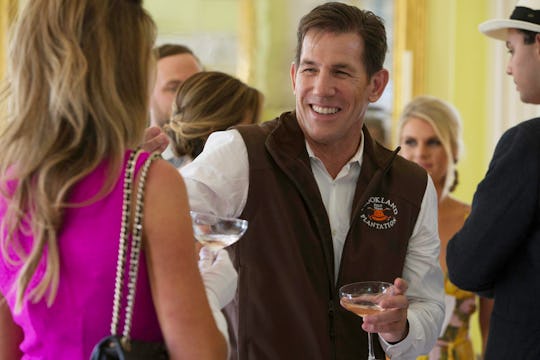 Brianna Stello/Bravo
Does 'Southern Charm's Ashley Have Any Kids Of Her Own?
This season on Southern Charm, Ashley Jacobs had the displeasure of being the new kid on the block who was sure to gain some unwanted attention and criticisms regardless of who she is. She just happens to be Thomas Ravenel's new girlfriend and as such, she's spent a lot of time with his kids, causing some drama with his baby mama and fellow Southern Charm star, Kathryn Dennis. But does Ashley Jacobs have kids of her own? The Southern Charm star may have worked with kids in the past since she is a nurse, and there are kids of friends posted on her Instagram, but it would seem that at the moment, she doesn't have children of her own.
She clearly doesn't have a problem with kids, though, since she's currently in a pretty serious relationship with Thomas. The Southern Charm star has two toddlers of his own. Ashley's experience with kids in general is likely what makes her work so well with Thomas's kids on the show, which in turn upsets their mom, Kathryn, to no end. But as far as having kids of her own prior to meeting Thomas and moving across the country to be with him, Ashley is not yet a parent herself.
The drama with Ashley on Southern Charm this season hasn't been about her relationship with Thomas as much as it's been about her interaction with the kids he shares with Kathryn. In recent episodes, Thomas and Ashley have had some pretty heated arguments about Kathryn preferring not to have Ashley at her son Saint's birthday party. Where Thomas had agreed to those terms, it was Ashley who got upset on the show and from there, things got worse. During the argument, some of the other cast members and friends of Thomas intervened to try and calm Ashley down to make her understand where the two co-parenting Southern Charm stars were coming from. Danni Baird even told her, "Slow your role."
Fans of the hit Bravo reality show have watched Thomas and Kathryn's tumultuous relationship throughout the course of the series and have seen their many ups and downs. From being together and having two children together to Kathryn's own person issues with drugs that let to her briefly losing shared custody of the children, they've been through a lot. Add in a new girlfriend who wants to be a part of their children's lives and things are more complicated than ever.
Ashley might not have children of her own, but she seemed to bond with Thomas's right off the bat, especially since she was able to meet them early in in the relationship. Although, as seen on the show, Kathryn hadn't been told about the meeting on Mother's Day of all days, Ashley met the kids and it was right around that time that she decided to move her entire life from California across the country to be with Thomas in South Carolina.
That was another big issue between Ashley and Kathryn, as Kathryn met her for the first time on Southern Charm this season. That's right — Kathryn met her ex's new girlfriend, who'd already interacted with their children, for the very first time and it was on TV. Whether or not that was the wisest decision on Thomas's part, it definitely didn't help matters as far as Kathryn is concerned. From a diplomatic and totally neutral standpoint, however, it can be argued that at least Ashley probably has some real life experience with children, having been a nurse for some years, and that her interest with the kids is one of her better qualities overall. Somehow, though, I don't see that mattering a whole lot on the show.