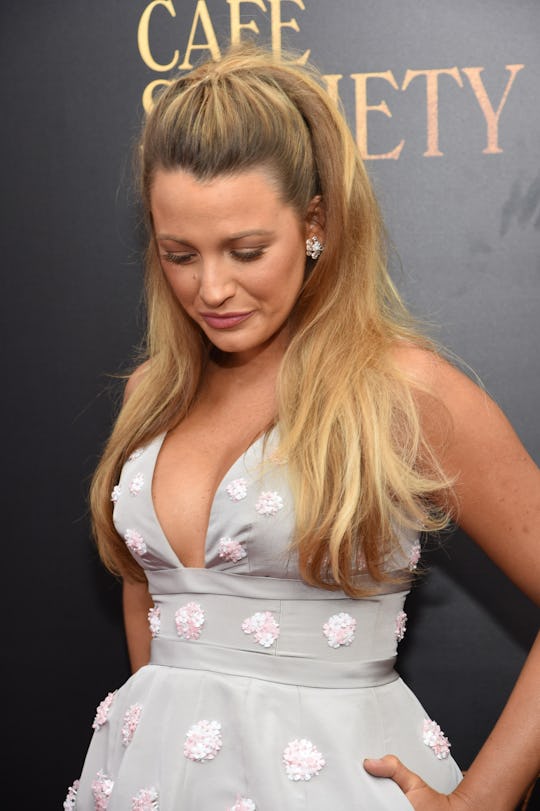 Jamie McCarthy/Getty Images Entertainment/Getty Images
Does Blake Lively Enjoy Being Pregnant? Her Second Baby Is On The Way
Ever since actress Blake Lively confirmed her second pregnancy in mid-April, fans have been waiting, and waiting, and... waiting to meet baby No. 2. By the end of August, her husband, Ryan Reynolds, told E! News that the Gossip Girl alum was "extraordinarily pregnant," and nearly three weeks later her status hasn't changed. And even though she managed to look absolutely gorgeous on red carpets for award shows and premieres throughout the summer, that's a notoriously brutal time to endure the final months of pregnancy. No one knows that better than her, but is there a chance that Blake Lively actually enjoys being pregnant regardless?
There's no doubt that from the Met Gala back in May to rocking a fun floral dress in Brooklyn in July, Lively has maintained a poise and apparent breeziness that made it all look easy — from the outside. But during an conversation with Jimmy Fallow on The Tonight Show over the summer, the 29-year-old got real. "It should be illegal to be pregnant in New York in July," she joked. "I'm going to make my water break just to cool down."
So far, though, that hasn't happened, and Lively and Reynolds' first child, James, who will turn 2 in December, is counting down her very limited remaining days as an only child.
But even though a summer pregnancy is a struggle, it's clearly worth the discomfort for Lively. "But I love my personal life so much — and my family so much — that it takes a lot to make me want to leave the house," she told Marie Claire UK in June.
And the actress is super relatable when it comes to discussing the effect pregnancy has had on her body, too. She starting filming The Shallows just eight months after giving birth for the first time in 2014, in a role that required her to spend a lot of time in a bikini on camera. With the help of a personal trainer and a strict diet, she slimmed down for the part, but recognized that that outcome isn't realistic or especially attainable for most non-actors. "I don't look like that in real life, she said in a recent interview will Kelly Rippa on Live With Kelly. "That's not me. That was an eight-week period of my life."
Toward the end of her first pregnancy in October 2014, Lively told Extra! outside the Golden Hears Awards in New York that she decided what to wear to the event by determining "whatever will zip. It's a pretty easy decision."
Whether or not Lively actually enjoys being pregnant, she does it with impressive grace and makes it look effortless. And when she finally does have that second baby, the world will be very excited to meet him or her.