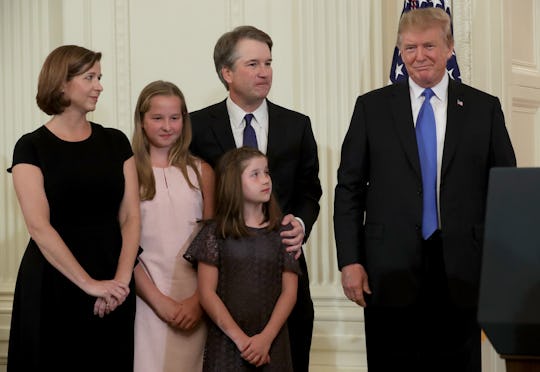 Chip Somodevilla/Getty Images News/Getty Images
Brett Kavanaugh's Daughters Made An Appearance At His First Confirmation Hearing
President Donald Trump's pick to fill the vacancy on the Supreme Court, 53-year-old Brett Kavanaugh, is in the midst of his confirmation hearings. The intensive process kicked off on Tuesday, leading to increased public interest in Kavanaugh's professional and personal life. And one of the questions people have concerns whether Brett Kavanaugh has kids. Some might be surprised to learn that the politician brought his two daughters to his first confirmation hearing.
Trump announced Kavanaugh's nomination in July during a press event that the circuit judge to the U.S. Court of Appeals for the District of Columbia Circuit attended alongside his wife, Ashley Estes Kavanaugh, and his two daughters, 13-year-old Margaret and 10-year-old Liza, according to ABC News. The girls seemed excited about their dad's professional development in photos from the announcement, a sentiment Kavanaugh confirmed in his opening remarks during day one of his confirmation hearing.
"At the White House on the night of the announcement, the President and Mrs. Trump were very gracious to my daughters, my wife, and my parents. My family will always cherish that night — or as my daughter Liza calls it, her debut on national television," Kavanaugh said to the Senate Judiciary Committee, according to CNN.
Considering the girls enjoyed the White House visit, Kavanaugh probably thought it would be as equally as thrilling for the pair to attend one of his confirmation hearings. If you caught the first hearing on Tuesday, there's a good chance you spotted Liza and Margaret seated behind their dad in the front row of the hearing room.
Although it's understandable that Kavanaugh wanted his daughters to witness this professional milestone, some may wonder if the venue was appropriate given the controversy surrounding his nomination. Many citizens are understandably frustrated with Trump's choice due to Kavanaugh's concerning views regarding abortion rights and gun safety, while others believe the nomination is unjust in light of what happened with President Barack Obama's Supreme Court pick, Judge Merrick Garland.
Given the long list of grievances people have with Kavanaugh, it's not surprising protesters showed up en masse on Tuesday and Wednesday to voice their opinions. And since this discontent has been well-publicized in the months following Kavanaugh's nomination, it's fair to wonder why he decided to bring his children to the hearings. It goes without saying Kavanaugh's kids have nothing to do with his judicial record or personal views, after all.
Liza and Margaret left the first confirmation hearing early and did not attend day two, HuffPost reporter Sara Boboltz shared. Sen. Lindsey Graham of South Carolina blasted the scene Liza and Margaret witnessed, lamenting on Tuesday, according to ABC News: "I just wish if we could have a hearing where the nominee's kids could show up. Is that asking too much?"
Graham echoed this sentiment on Wednesday, telling Kavanaugh, according to ABC7NY: "I want your daughters to know that what happened yesterday is unique to the times that we live in."
Of course, some might argue Graham picked an interesting time to bemoan America's fraught political climate given the other pressing examples of this issue, while others would assert his ongoing defense of Trump's words and actions encourages the decisiveness he supposedly loathes.
Although Liza and Margaret's attendance at the hearing was overshadowed by controversy, there was one moment when Kavanaugh got to discuss life with his girls. He said in his opening remarks, according to CNN:
For the past seven years, I have coached my daughters' basketball teams. I love coaching. All the girls I have coached are awesome. And special congratulations to the girls on this year's sixth-grade CYO championship team: Anna, Quinn, Kelsey, Ceane, Chloe, Alex, Ava, Sophia, and Margaret. I love helping the girls grow into confident players. I know that confidence on the basketball court translates into confidence in other aspects of life. Title Nine helped make girls' and women's sports equal, and I see that law's legacy every night when I walk into my house as my daughters are getting back from lacrosse, or basketball, or hockey practice ...
Kavanaugh also shared, according to the Daily Mail:
My daughters Margaret and Liza will be in and out of this hearing room over the next few days. In the time since you last saw them at the White House, I am pleased to report that Margaret has gotten her braces off and has turned 13. Margaret is the sweetest girl you'll ever know. As for Liza, well, I tell her every night that no one gives a better hug than Liza Kavanaugh.
Although it's interesting to hear these anecdotes about Liza and Margaret, it's probably best Kavanaugh keeps them out of the spotlight for now. These confirmation hearings should be about Kavanaugh's record and competency only, and citizens have the right to express their concern regarding these issues without admonishment from conservative politicians.