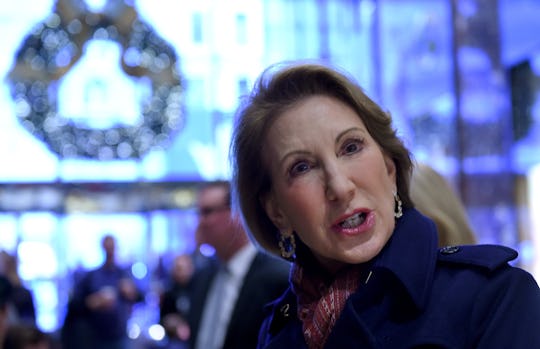 TIMOTHY A. CLARY/AFP/Getty Images
Does Carly Fiorina Have Intelligence Or Security Experience? She's Up For A Cabinet Role
Carly Fiorina, the former Hewlett-Packer CEO with no experience in elected office, developed a tumultuous relationship with Donald Trump when they, along with a wide pool of presidential hopefuls, vied for the 2016 Republican nomination. Trump ultimately bested them all, and the now-president-elect is apparently considering his former foe for the Cabinet-level position of director of national intelligence. And it's a curious decision considering the antagonism that has existed between the two, but the real issue that should have dominated their meeting Monday is Carly Fiorina's intelligence and security experience, which is concentrated in her position on a CIA advisory board.
Trump himself took vicious aim at the CIA — which he will soon control — at the defense of Russia last week, when news emerged that it had concluded that the cyberattacks the country perpetrated over the course of the election were intended to swing it in Trump's favor. Now, he's exploring whether to nominate Fiorina, whose experience lies largely in the business realm, to head up the intelligence community. Her national security and intelligence résumé shows that she has some exposure to such issues, but she'll need to be prepared to "effectively integrate foreign, military and domestic intelligence in defense of the homeland and of United States interests abroad," as the White House defines the job, if Trump decides to tap her for it.
According to Politico, Fiorina said after her meeting with Trump that two discussed the hacking, and "spent a fair amount of time talking about China as probably our most important adversary and a rising adversary."
Of course, exactly what Fiorina — whose appearance Trump has denigrated and who even called for him to drop out of the race after a video of him talking about kissing and groping women against their will emerged in October — contributed to the conversation may never be public knowledge. But we do know that her national security expertise extends to her appointment in 2006 to CIA external advisory board, in which capacity she regularly traveled to the agency to provide recommendations for how the agency could maintain its spying operations while meeting public demands for transparency, Yahoo News reported.
"One of the things that I advised the NSA and CIA to do is to be as transparent as possible about as much as possible — because transparency reassures people," Fiorina told the outlet in an interview. "Intelligence agencies that engage in covert activity need to be very creative about how they can be transparent while not jeopardizing our personnel and sources and methods."
As a primary presidential candidate, Fiorina also voiced her support of the CIA's use of waterboarding as a tactic in its post-9/11 counterterrorism efforts; in doing so, she aligned with Trump's position on using torture as a tactic to extract vital information from suspected terrorists.
Fiorina's failed presidential run wasn't her only attempt to get elected to public office. In 201o, she lost a bid for a California senate seat to Democrat Barbara Boxer by 10 percentage points. It was another professional blow after the Hewlett-Packard board, which had hired her as CEO in 1999, fired her in 2005 after she laid off 30,000 employees and income to the company's "income flow" wasn't adequate, according to Business Insider.
If she's nominated as director of national intelligence, this would be Fiorina's most monumental gig yet. It's up to our leaders to determine whether her background shows that she's up for the job.