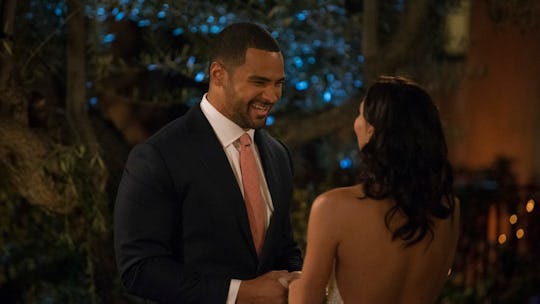 Paul Hebert/ABC
Clay Is Desperate To Get Back On A Football Field Now That 'Bachelorette' Is Over
After Monday's Bachelorette episode, it's safe to say that Clay Harbor is now the unsung hero of the show. He revealed a different side from his usual sweet teddy bear self during the football date, in his element, and Becca Kufrin (and fans) started to see him in a totally different light. But does Clay Harbor still play football? The Bachelorette contestant is no stranger to injuries putting him on the sidelines or out of the game, unfortunately, as he's essentially between teams. In the week three episode, Clay was injured during the football group date which led to him needing surgery for his wrist. Since he's a professional athlete and by no means retired from the game, he knew it was best to leave the show in order to seek medical attention as soon as possible.
It wasn't easy to see him go, especially after he showed such a passionate side of himself during the date, but as he told Becca's other guys, he had to do what was best for himself, his career, and his family, and you really can't fault him for it. Prior to going on The Bachelorette, though, Clay had already succumbed to a different injury and had his leg in a boot for several weeks, which meant that his team at the time, the New Orleans Saints, had to put him the injured reserve list. He was basically still part of the team, but had a temporary leave due to his injury. However, it looks like Clay is currently in search of a new team to sign him, so here's hoping.
In the past, Clay has played for the New Orleans Saints, Jacksonville Jaguars, Philadelphia Eagles, New England Patriots, and Detroit Lions, so he's definitely had an impressive career so far. And, according to Clay, he's ready to get back in the game and has been training almost constantly. "I have to thank the whole @BacheloretteABC family for an amazing experience in hindsight I don't regret my decision to come on and would gladly give my wrist for a chance at love," he tweeted after Monday's episode.
He followed it with another tweet that said, "That being said the show was filmed months ago and after a tough rehab I am finally ready to play some football. I look forward to finding a team and seeing you all on NFL Sunday's. Thanks for all thoughts and prayers!"
There is the off chance that Clay could already be in talks with a team to be placed on their roster for the upcoming football season, but if not, the official NFL draft for 2019 will start on April 25. If all of Clay's training and physical therapy has paid off, then Bachelorette fans might see him back on the field sooner rather than later.
Like he said in his tweets, his wrist injury happened months ago thanks the timing of The Bachelorette's filming schedule, so he's likely totally healed now. Since his leg injury happened before even going on the show, it's safe to say that physically, Clay is also ready to be part of an NFL team again. The game is obviously important to him and still a very big part of his life and his future plans, so I really don't see him stepping away from football anytime soon.
Even so, could the fact that he's a free agent mean that he'll be available for Bachelor in Paradise? As much as fans would probably love that, he did tweet out, "Getting paid actual money to play the game of football is paradise," as a response to someone asking him about the possibility, so we may not see him on TV again until he's playing football on Sunday nights.