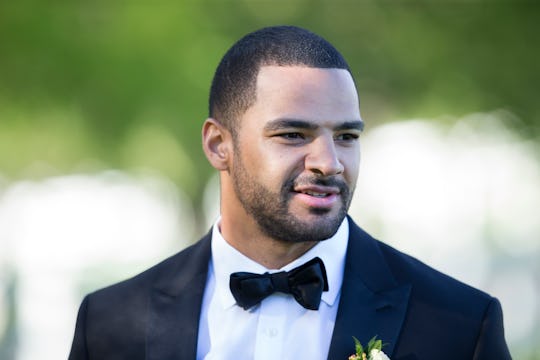 Paul Hebert/ABC
Clay's Injury On 'The Bachelorette' Was Really Scary To Watch
There might still be several weeks of The Bachelorette left this season, but that doesn't mean that Becca Kufrin wasn't already starting to catch feelings by the end of the week three episodes, and that's exactly what it seems like is happening. Unfortunately, Clay Harbor may have been one of the lucky contestants to be the object of her affections, but he was injured in the middle of a date, but what happened to Clay on The Bachelorette? His injury might be more serious than it looks, especially since it caused him to head off to the emergency room. During the second group date of the episode, Clay was part of one of the teams who got to participate in a football game for Becca.
The game ended in a tie, and Clay was actually awarded the group date rose, but in the end, he had to give it back because as it turned out, he broke his wrist during the date. Unfortunately, because of the severity of it, it wasn't the kind of injury that would bring Clay and Becca closer, a la Evan Bass and Carly Waddell on season three of Bachelor in Paradise. Instead, the NFL player was forced to go to the hospital and have it checked out. And since he needed surgery to correct the injury, he had to give back the coveted group date rose and leave for the season.
I'm sure that The Bachelorette contestants sign a ton of waivers in the event of such a serious injury, but it's still so unfortunate that it had to happen just as Clay and Becca were potentially going somewhere and after a successful group date. Also, Clay is legitimately one of the sweetest guys ever, so to have this happen to him specifically was just another blow. Even though Clay is currently a professional football player, no one is really safe from on-field injuries and he pretty much proved that before hen he, of all people, was the contestant injured during the five-on-five game on The Bachelorette Monday night.
According to GameReady.com, a wrist injury that requires surgery can include several weeks of recovery time. After getting surgery, you an expect at least four weeks of physical therapy necessary to correct the injury and if that's what Clay is looking at, then the injury was definitely too serious to continue on with the show.
This wouldn't be the first time that Clay suffered a serious injury related to football, though. In August 2017, he got injured and the New Orleans Saints put him on injured reserve because of it. The injury had him out for at least two weeks at the time, but according to Clay's Instagram, he's been trying to get back to 100 percent ever since to get back in the game. Despite being in a walking boot following his injury, he'd been on the road to getting back in proper game shape, so he likely had the same attitude when he was injured on The Bachelorette when it filmed for this season, but it did add another obstacle for the athlete.
If Clay hadn't have gotten injured this season,. He legitimately could have gone far. As in, at least final four kind of far. He did get the group date rose and he's proven that he's genuine and was really there to try and find love with Becca, which makes it even harder to say goodbye to him. I don't think he was on the season long enough to warrant him a future Bachelor spot, but I wouldn't rule him out for the nice guy on season five of Bachelor in Paradise.