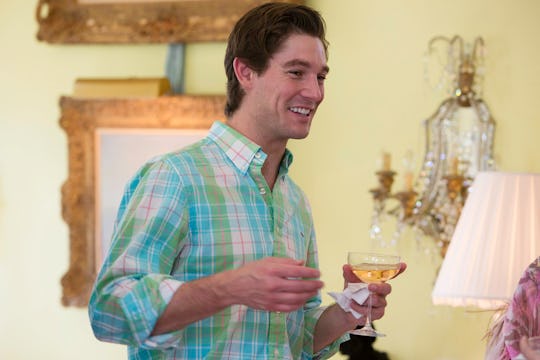 Brianna Stello/Bravo
'Southern Charm' Fans May Soon Be Able To Buy Craig's Pillows
One of the more memorable fights between exes Craig Conover and Naomie Olindo this season on Southern Charm was about his passion for sewing. At the time, he was also preparing to be sworn in as an attorney, and Naomie thought his hobby of sewing pillows was a distraction. But now that Craig really is a lawyer, it doesn't look like he's stopped sewing. You may wonder: does Craig Conover sell his pillows? Southern Charm fans know all about his creative side and how important it was to him to be able to keep creating things — even while his relationship with Naomie wasn't going so well.
Back in August, Craig posted a photo on Instagram of his sewing machine and his work in progress wherein it was at least clear that he took his pillows seriously. Then, in an Instagram story posted on April 30, Craig announced that he planned to launch his own line of pillows called Flawed Creation. He hasn't yet given any updates about where to buy his pillows or what the progress of the launch is but it would seem that he's still determined to make this other career path work as well as being a lawyer.
In April, Craig spoke to The Daily Dish about his impending throw pillow line and how it would affect his burgeoning law career. He made it clear that he plans to try and do both things at the same time. "It would kind of be irresponsible for me, I think, to jump right into it, pick up a whole bunch of clients," he said, of working in law full-time now that he's been sworn in to the South Carolina Bar. "Right now, we're busy with other stuff at the moment. I enjoy helping people anyway. That's kind of why I got into law. And so if I were to do that, I think it would be pretty fulfilling," he explained. "I'm not really following everyone's advice of 'pick one thing and stick to it,' because, as I told them, it's not who I am, and so I'm finally just doing everything I want to do, so it's nice."
Although it doesn't look like there's an official website or store where you can buy his designs just yet, Craig does seem to have big plans and plenty of support behind him. "I don't see Craig as a lawyer per se," Patricia Altschul recently told Bravo. "I see him doing creative things."
Kathryn Dennis echoed those sentiments when she said that upon seeing Craig in his element in his sewing room, it was the happiest she'd ever seen him. "I don't know if it's pillows or if it's the fact that he finally has the freedom to do whatever it may be that his little heart desires," Kathryn said, showing her friend support.
Craig himself said that he had several hundred orders already in from fans on Instagram, so there's definitely a market for what he's making as long as he does indeed follow through with Flawed Creation. And, according to an interview with Decider, it doesn't stop at pillows.
"I'm basically doing custom onesies and anything else you would want embroidered, like kitchen aprons, and basically making throw pillows and bedroom sets," Craig revealed. "I do them all by hand and that's how I focused a lot of my energy after the breakup, was just doing that. I needed an outlet and I had lost my garden and my workshop after I moved out, so I had my sewing machine and I started to see there was an interest in these pillows I was making, so just seeing where it goes."
Right now, it doesn't look like his line has officially launched, but clearly that's his plan.