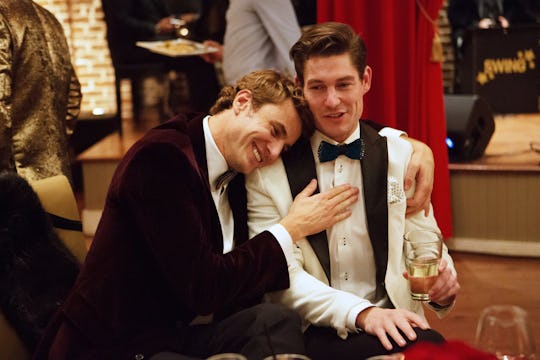 Paul Cheney/Bravo
'Southern Charm' Star Craig Conover Is About To Start A New Chapter Of His Life
When you have a group like the high class Charleston residents on Southern Charm, you expect them to either come from money or have jobs that are highly influential or impressive. In Craig Conover's case, it's more of the latter. So what is Craig Conover's job now? The Southern Charm star was recently sworn in to become a lawyer and was working at a Charleston law firm for several months while he finished up his studies. According to his LinkedIn profile, Craig is the founder and CEO of Apex Principles, Inc., but now that he's passed his bar exam and has also been sworn in as a real attorney, the reality TV star has some big plans for his future career.
First, he plans to get his feet wet at a legal clinic in Charleston for 20-30 hours and then branch off to use his new profession to help others, including firms or lawyers who may need help on particular cases. "You can go be Superman for someone that needs it," Craig told The Daily Dish back in February. "It's not a particular section of law other than it's kind of got to be a specialty firm where I can come in and close stuff off for people that can't do it themselves."
But apparently getting to be an attorney and finally practice law isn't the only potential new career move for the Southern Charm star. In Season 4, he revealed to then-girlfriend Naomie Olindo that he was planning on starting a clothing line. In the Season 5 trailer for Southern Charm, she is shown arguing with him about staying home to sew, so it would seem that he still has some kind of fashion aspirations as well. Then again, over the years, viewers have seen Craig work in a number of different jobs on the show, so adding bona fide attorney and fashion designer to that list really isn't all that surprising.
Craig also told The Daily Dish that finally being sworn in as an attorney after waiting almost a year after passing his bar exam felt like a weight had been lifted off his shoulders. "It makes me laugh because you'll hear a lot of insults are on my way this year, and concern, and the whole time I really didn't understand it because everything's going great right now and I'm happy where my life's at," he said. "It's kind of funny to relive this past season especially with everything that's happened recently."
By "everything that's happened" he might be referring to his breakup with Southern Charm co-star Naomie, which is sure to get a lot of attention this season. But apparently through dealing with the breakup and figuring out how to live separately while still filming the same reality TV show together and sharing friends, Craig has managed to take some real strides toward his own future career. Even though he doesn't seem eager to start a practice of his own someday, he's still ready to start his law career that he's apparently waited quite a while to be able to do.
When he posted an Instagram photo of himself being officially sworn in, he wrote in the caption:
It's truly an honor to swear into the S.C. Bar Association. It's been a long road but after a ton of hard work I'm incredibly proud to finally join the ranks of all the other defenders of the Constitution out there.
After the time it took to finally get to where he is right now, Craig no doubt takes his new position very seriously and might just be ready to settle down with one career. You know, eventually.
Check out Romper's new video series, Romper's Doula Diaries:
Watch full episodes of Romper's Doula Diaries on Facebook Watch.