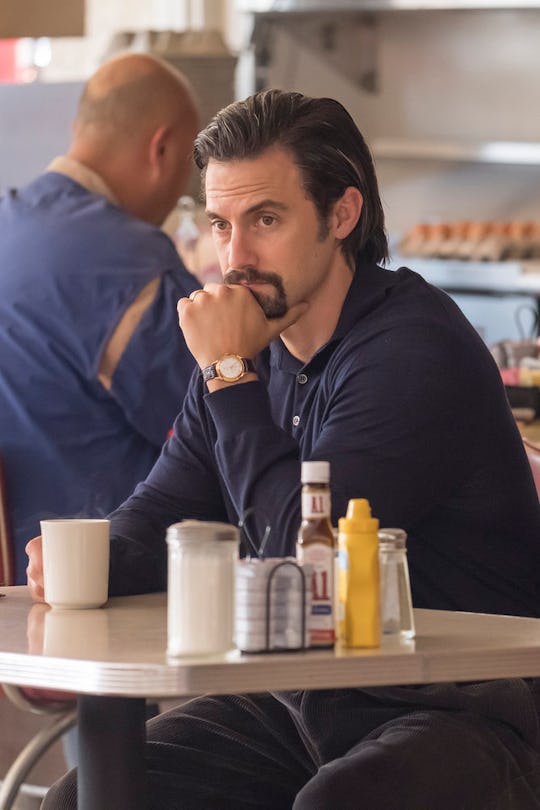 Ron Batzdorff/NBC
'This Is Us' Season 2 May Finally Give Fans Answers About Jack's Death
One of the big mysteries of This Is Us is easily centered around the family patriarch Jack Pearson's death. The how, why, and when of it all has yet to be revealed, but with the new season premiering Tuesday night, it begs the question: does Jack die in This Is Us Season 2? Toward the end of the first season of the hit NBC series, a lot of the focus of the show became more about the three siblings, Kate, Kevin, and Randall and how their relationships with each other have evolved throughout the years. But for many fans, the big question always comes back to the details surrounding Jack's death.
Since Episode 5, when Kate confirmed to Toby that Jack is dead and that she keeps his urn, fans have been wondering about the fate of everyone's favorite TV dad and advice giver. Then, in Episode 13, when Kate pounded on a drum in a therapy session during her short-lived stint at a weight loss camp and had flashback bursts to Jack's funeral, viewers learned that Jack's death happened when the kids were teenagers. But other than that, there hasn't been much to go on.
Granted, there are tons of theories about Jack's death on This Is Us, but with Season 2 fast approaching, you have to wonder if Jack's death will be shown at long last at some point during the second season.
Thankfully, This Is Us creator Dan Fogelman doesn't plan on torturing fans for too much longer. He told Time that, at the very least, Jack's death will be addressed in Season 2 of This Is Us in some capacity.
"I think it's fair to say that kind of mystery or conversation about [Jack's death] will have evolved into new stuff by the end of the season," he revealed. "The first episode holds a giant piece of the puzzle that I think will feed the beast of the appetite of people wanting to know what happens without giving every single answer. And the season in general will be a journey to understand all that and what happened in that year."
I don't know if this means that the flashbacks we see during the siblings' teen years will all take place in the year Jack died for Season 2, but it does sound like fans will get some answers to quench their thirst for a little while, even if all still isn't fully revealed by the end of the season. Fogelman also told Entertainment Weekly that part of the Season 2 premiere will already give a clue about Jack's death on This Is Us.
In the premiere alone, he said, a "huge piece of the puzzle" will be revealed to start off the season right and serve as a jumping off point for the show's sophomore season to finally reveal Jack's death in its entirety, even though no one has enough tears to endure that.
Obviously in present day life on This Is Us, Jack is already dead and his adult children are living their own lives while trying to figure things out. But since Season 1 was the starting off point for literally everything fans have come to know and love about the series, it's only natural to wonder if Jack will die in Season 2 of This Is Us, via the flashbacks the show is so well known for. Fogelman revealed to E! News that the way Jack's death happens on This Is Us hasn't been changed in the show's plans since the beginning, so things seem like they're right on track with the way the show has been planned out, but that certainly doesn't make the wait any easier.
But in a way, it's a bittersweet thing. Of course fans want to know how Jack dies, but on the other hand, there's not enough Kleenex in the world to help fans get through this tragic moment once it's finally revealed. Honestly, I can't even get through rewatches of the series yet without blubbering.
The important thing is that Season 2 will no doubt give fans answers, while propelling each story along. Just make sure you stay hydrated between episodes, because those This Is Us-induced tears are no joke.
Watch Romper's new video series, Romper's Doula Diaries:
Check out the entire Romper's Doula Diaries series and other videos on Facebook and the Bustle app across Apple TV, Roku, and Amazon Fire TV.